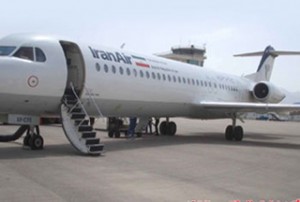 Iran has cancelled all its flights to Europe due to a blanket of volcanic ash, which is still covering European airspace, a spokesman for the Civil Aviation Organization of Iran says.
One-hundred hours after the volcanic eruption in Iceland, air traffic controllers still consider flights over European countries dangerous due to the spread of volcanic ash throughout the continent, Reza Jafarzadeh told IRNA on Monday.
"A total of 13 flights to and from European cities, including Amsterdam, Frankfurt, Vienna, London and Guttenberg were cancelled on Monday," he added.
Jafarzadeh pointed out that five flights belonged to Iran Air, and the remaining belonged to BMI, Lufthansa and KLM airlines.
He added that since there were no reports on the improvement of conditions in European airports, it was estimated that flights would remain cancelled over the next few days.
Meanwhile, a number of carriers ran test-flights without passengers over the weekend and reported success.
The International Air Transport Association (IATA) estimates that airlines are collectively losing USD 200 million in revenues every day.