Iran
VP: Iran unaffected by regional crises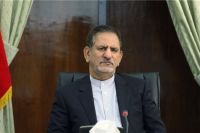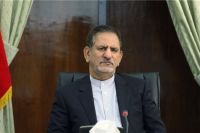 Iran is one of the most stable and secure countries in the Middle East despite rising insecurities in the region, First Vice-President Eshaq Jahangiri underlined on Tuesday.
"Iran considers interaction among the regional countries as the solution to the problems in all areas and it welcomes any kind of cooperation for real fight against extremism," Jahangiri said, addressing an international symposium on tourism in Tehran today.
He underlined that the regional countries need vast cooperation in political, economic, cultural and social areas in order to reach an understanding.
The Iranian vice-president pointed to the role of tourism in international relations, and said, "Tourism is one of the most effective tools of general diplomacy for interaction among different nations and restoration of peace."
Jahangiri reiterated that all the world nations are aware of the realities, and said, "Welcoming Iranian President Hassan Rouhani's proposal on a World Against Violence and Extremism (WAVE) at the United Nations last year showed this reality."