Palestine
War-stricken Gazans urge greater medical assistance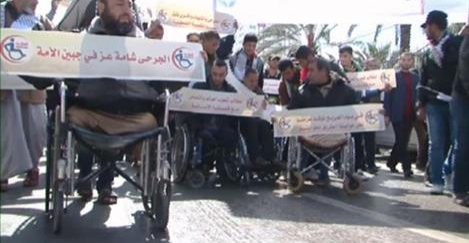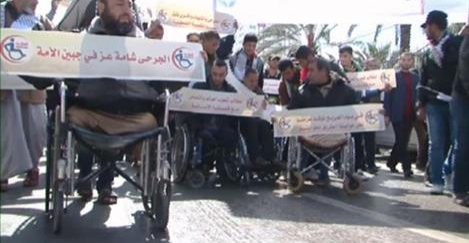 Palestinians have taken to the streets in Gaza to mark the 47th anniversary of the Palestinian Wounded Persons Day, slamming the global community for turning a blind eye to the lack of medication to treat those wounded in Israel's 50-day war, Press TV reports.
On Thursday, hundreds of Gazans rallied from the Palestinian Legislative Council building toward the United Nations office, calling for more medical assistance to those injured in the Israeli regime's latest aggression against the besieged coastal sliver last summer.
"The world has been watching in silence while the Zionist enemy was killing and wounding Palestinians. We are alive but we feel like the living dead because Egypt keeps the Rafah crossing closed and prevents us from receiving medical care abroad," a wounded Palestinian protester said.
Last October, Egypt sealed the border crossing after briefly reopening it, claiming security concerns. It has opened it intermittently since.
The annual march also paid tribute to tens of thousands of Palestinians who were injured during Israel's bloody military offensives over the past years.
"This rally is the least we can do to express our gratitude to the victims of Zionist attacks. Tens of thousands of Palestinians were wounded in Israeli wars and we must highlight their suffering and make sure they are not forgotten," said Ahmad al-Modallal (shown below) from the Palestinian resistance movement Islamic Jihad.
"Local and international bodies must help these people in order to bring some sort of normality to their lives," he added.
Israel unleashed attacks on the Palestinian territory in early July 2014 and later expanded its military campaign with a ground invasion of Gaza. The war ended in late August that year. Nearly 2,200 Palestinians lost their lives and some 11,000 were injured in the attacks. Gaza Health officials say the victims included 578 children and nearly 260 women.
The Gaza Strip has been under a crippling Israeli siege since 2007. The blockade, which has cut off the territory from the outside world, has led to an economic and humanitarian crisis in the densely-populated enclave.
Israel not only defies international calls to lift the brutal siege, but also does not allow medication or construction materials into Gaza.
Source-Press TV