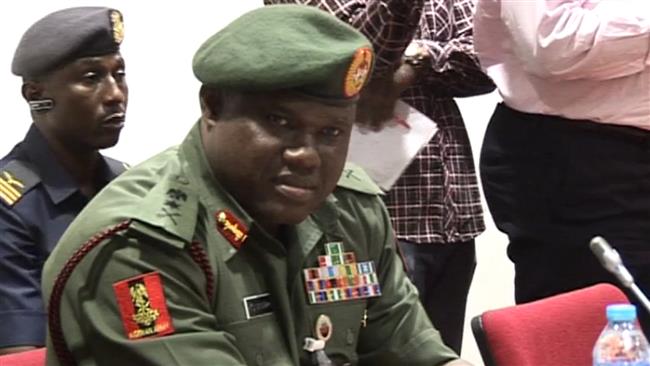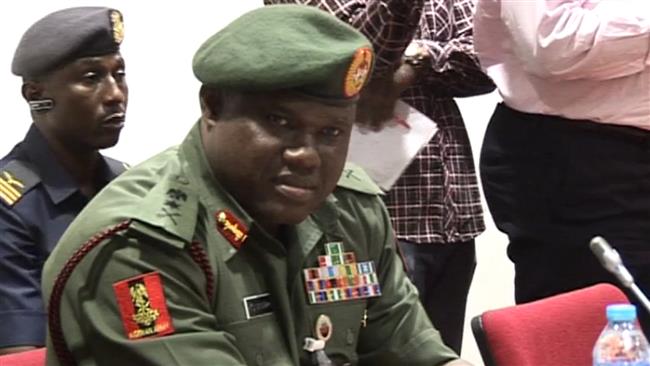 The head of the Nigerian Army, Lieutenant General Kenneth Minimah, says the war against Takfiri Boko Haram militants will soon end.
He made the comments on Thursday as he visited soldiers in the town of Baga, a fishing hub located on the shore of Lake Chad in the far north of Borno State in northeast Nigeria.
Nigeria's military said on February 21 that it regained control of Baga from the Boko Haram extremist group, which had overrun the town on January 3 after two days of clashes.
"The war is almost ended. We will liberate Dikwa, Bama, Gwoza, Marte and other places in a few days' time," Minimah told the troops.
The comments come amid efforts by Nigeria and regional countries to secure and stabilize the volatile region ahead of Nigeria's general elections on March 28.
The vote was initially scheduled to take place on February 14 but was postponed by six weeks due to concerns over security on the polling day.
Nigerian President Goodluck Jonathan and his ruling People's Democratic Party (PDP) have been accused of buying time to revitalize their election campaign.
Minimah, meanwhile, described the six-week deadline as "achievable," adding, "We are still within the timeframe."
Boko Haram, whose name means "Western education is forbidden," says its goal is to overthrow the Nigerian government.
It has claimed responsibility for a number of deadly shooting attacks and bombings in various parts of Nigeria since the beginning of its activities in 2009, which have left over 13,000 people dead.
According to the Office of the United Nations High Commissioner for Refugees (UNHCR), nearly 650,000 Nigerians have fled their homes due to the Boko Haram violence and are displaced inside the African country, while thousands of others have taken refuge in neighboring countries.