Syria
'We kill Syrian children for being atheist '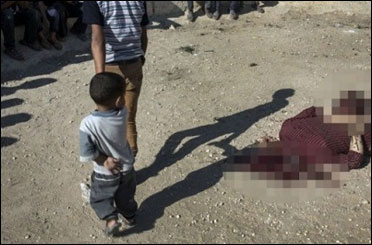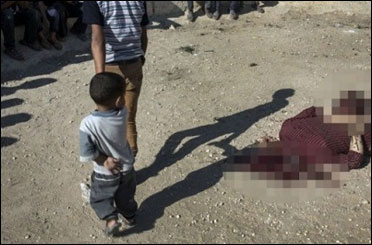 New York Times reported that a Saudi fighter in Syria has seen something that troubled him: two dead children, their blood-soaked bodies sprawled on the street of a rural village near the Mediterranean coast. He knew right away that his fellow rebels had killed them.
Abu Khattab, a 43-year-old Saudi hospital administrator who was pursuing jihad on his holiday breaks, went to demand answers from his local commander, a notoriously brutal man named Abu Ayman al-Iraqi. The commander brushed him off, saying his men had killed the children "because they were not Muslims," Abu Khattab recalled recently during an interview here.
It was only then that Abu Khattab began to believe that the jihad in Syria — where he had traveled in violation of an official Saudi ban — was not fully in accord with God's will. But by the time he returned to Riyadh, where he now volunteers in a program to discourage others from going, his government had overcome its own scruples to become the main backer of the Syrian rebels, including many hard-line Islamists who often fight alongside militants loyal to Al Qaeda.
The disillusionment of Abu Khattab — who asked that his full name be withheld because he still fears retribution from jihadists — helps illustrate the great challenge now facing Saudi Arabia's rulers: how to fight an increasingly bloody and chaotic proxy war in Syria using zealot militia fighters over whom they have almost no control.
The Saudis fear the rise of Al Qaeda's affiliates in Syria, and they have not forgotten what happened when Saudi militants who had fought in Afghanistan returned home to wage a domestic insurgency a decade ago. They officially prohibit their citizens from going to Syria for jihad, but the ban is not enforced; at least a thousand have gone, according to Interior Ministry officials, including some from prominent families.
Abu Khattab, a slight-figured man with bulging eyes and the scraggly beard of an ultra-orthodox Salafist, embodies some of these paradoxes. He now volunteers here once a week to warn young men about the false glamour of the Syrian jihad at the government's rehabilitation center for jihadists. "There is a shortage of religious conditions for jihad in Syria," he said. Many of the fighters kill Syrian civilians, a violation of Islam, he added.
At times, his sectarian feelings seemed to outshine his unease about the excesses of some of his more extreme comrades. He did not deny that he had often fought alongside members of the Islamic State of Iraq and Syria, or ISIS, the brutal jihadist group affiliated with Al Qaeda.
Yet this is a man who lectures inmates at the rehabilitation center every week about ethics and war. The center, like many Saudi institutions, has been somewhat embarrassed by the contradictions of Saudi policy with regard to Syria. Although the center incarcerates some men who have been arrested for trying to travel to Syria, last summer the nephew of Abdelrahman al-Hadlaq, its director, was killed while fighting there.
NY Times