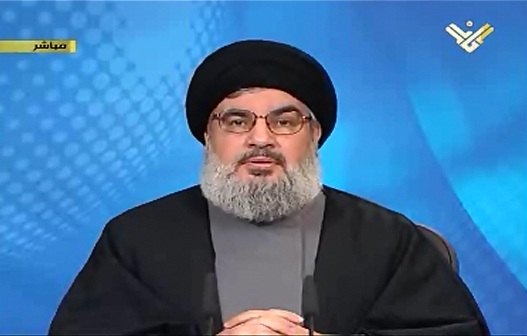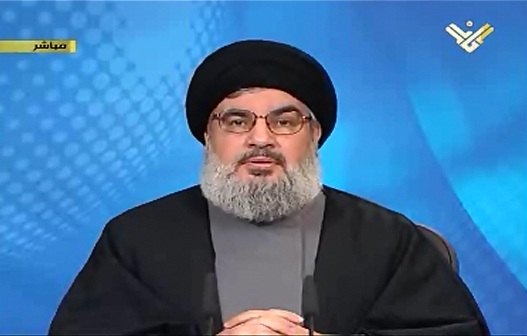 Sayyed Nasrallah Refutes Rumors, Stresses: "We Won't Be Dragged into Sedition"
As his eminence appeared Wednesday on al-Manar TV to refute rumors over his health condition, Hezbollah Secretary General Sayyed Hasan Nasrallah warned that there have been sides who seek sectarian sedition in Lebanon.
Sayyed Nasrallah said that there are clerics among the Sunni sect, who have been adopting an escalating rhetoric, wondering if "their incitement is based on realities or illusions."
His eminence also tackled the electoral law, calling for discussing the proposal of a law based on single district with proportional representation.
Hezbollah S.G. said that there is an armed campaign aimed to displace people who live in villages located near the Syrian border, stressing that these people have been defending themselves.
Sayyed Nasrallah also urged the government to convene in order to discuss the ranks and salaries system and to settle this issue.
"SOME SEEK SECTARIAN SEDITION AMONG MUSLIMS"
Sayyed Nasrallah warned that some people have been seeking sectarian sedition.
"There are sides that are driving sectarian strife, especially between Sunni and Shiite Muslims, in an accelerated manner," Sayyed Nasralla addressed his people on al-Manar TV.
"There are MPs and clerics among the Sunni sect who have been adopting an escalating rhetoric," his eminence said, wondering: "this incitement is based on realities or illusions?"
"If it's based on realities let us sit together and talk about the issue in order to solve the problem. But if it is based on illusions, let us know who has been seeking sedition in our country."
Sayyed Nasrallah also stressed that "we must not sit and simply watch who are seeking strife, and this needs wise people who intervene in a bid to reconcile between the sides who are at odds."
"I say to those who simply watch any dispute that the strife is not in favor of any side in this country."
"WRONG CALCULATIONS"
On the issue of Sidon and the threats made by Imam of Bilal Bin Rabah Mosque Sheikh Ahmad Assir, Sayyed Nasrallah warned against "wrong calculations", but stressed that Hezbollah "won't be dragged into sedition."
Asking whether the residing in Sidon needs permission from one side or another, Syyed Nasrallah said: "we were engaged in Sidon's liberation… and after the Israeli withdrawal from the city we have apartments, houses, mosques and complexes there since 20 or 25 years."
"We didn't have an office near a Mosque, however this mosque was built near the office," Sayyed Nasrallah said referring to Bilal Bin Rabah Mosque, but without naming Assir.
Assir threatened last week that a Hezbollah office near his mosque should be evacuated by Hezbollah members. However Sayyed Nsrallah stressed that this office was established even before Bilal Bin Rabah Moasque was built.
"ORTHODOX PROPOSAL OR SINGLE DISTRICT WITH PROPRTIONAL SYSTEM"
Speaking about the electoral law, Sayyed Nasrallah called to seriously discuss the law of single district with proportional representation.
His eminence said that this proposal is the most appropriate electoral law since it goes beyond the negative points of the Orthodox Gathering proposal.
He also said that "there are foreign and local powers that have been driving for delaying the elections."
Responding to claims that Hezbollah favors postponing elections, Sayyed Nasrallah stressed "it's of Hezbollah's interest to hold the elections on time."
However, he said that some sides prefer to delay the elections, as they bet on the fall of the Syrian regime.
"Who wants to delay the elections, let him announce his intention and causes without accusing others of being interested in the delay."
ARMED CAMPAIGN AGAINST LEBANESE BORDER VILLAGES
Sayyed Nasrallah indicated there has been an armed campaign against some Lebanese villages on the Syrian border.
"These campaigns are aimed at displacing the people of these villages. These people hold weapons to defend themselves, and their land."
In this context, Hezbollah S.G. said "it is their right to defend themselves," but stressed that they should not attack any one.
"Syrian armed opposition has occupied some Shiite villages in Syria, as it displaced its people whose some of them are now seeking shelter in the region of Bekaa and Hermel."
ISSUES OF RANKS AND SALARIES, KIDNAPPING
On the other hand, Sayyed Nasrallah urged the government to settle ranks and salaries system, calling for a quick and exceptional session in which this issue will be approved and then to refer it to the Parliament.
Meanwhile, his eminence tackled the kidnapping which Lebanon has been witnessing since weeks ago, considering this issue a dangerous one.
He called for a national cooperation to confront this phenomenon, stressing that the state, security body and the judicial authority should hold their responsibilities regarding this problem.