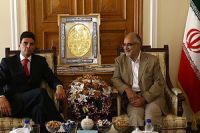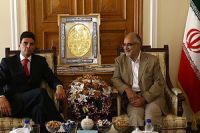 An Iranian lawmaker has hit out at the West for having adopted a double-standard approach vis-à-vis Tehran's nuclear energy program.
According to Press TV, Chairman of the Iran-Brazil Parliamentary Friendship Group Abdolreza Mesri in a meeting with member of Brazil's Chamber of Deputies (the lower house) Claudio Cajado Sampaio in Tehran on Sunday said "The West and hegemonic powers have double standards towards the use of nuclear energy."
Mesri said "The use of nuclear energy for peaceful purposes is among the inalienable rights of the Iranian nation, and it forms the basis for Iran's talks over its nuclear case."
Mesri also praised the influential and positive role of parliamentary friendship groups in furthering relations between countries, and noted that the Iran-Brazil Parliamentary Friendship Group is fully prepared to help promote parliamentary ties between Tehran and Brasilia.
Cajado Sampaio, for his part, voiced the Brazilian congress's readiness to advance political, industrial, economic and technological relations with Iran.
He said the Brazilian government and congress believe that a friendly atmosphere has been created in all spheres for the promotion of ties with the Islamic Republic of Iran.