Iran
'West must respect Iran's nuclear right'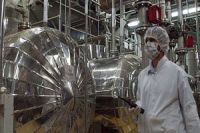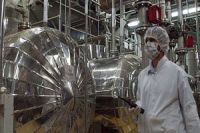 The results of a new poll by Press TV website show that an overwhelming majority of respondents across the world believe that the West should respect Iran's right to a peaceful nuclear energy program.
The poll, open between November 5 to 12, asked respondents if the West should respect Iran's nuclear enrichment rights under the nuclear Non Proliferation Treaty (NPT).
According to the poll, 89 percent of the voters agreed that the West should respect Iran's right to enrichment, while only 11 percent voted against the notion.
The US had the most participants in the poll with more than 1,500 respondents, Britain with just over 700, Canada under 500, Germany under 200, and Australia with over 120.
The results came after closed-door talks over Tehran's nuclear program between Iran and the five permanent members of the United Nations Security Council — the United States, China, Russia, France and Britain — plus Germany, ended in Geneva last week. The intensive talks kicked off on November 7 and stretched into the early hours of November 10.
The two sides could not reach a deal in Geneva, but stressed that significant progress had been made and expressed optimism about the prospect of achieving a deal. The two sides agreed to continue negotiations on November 20 in the same venue.