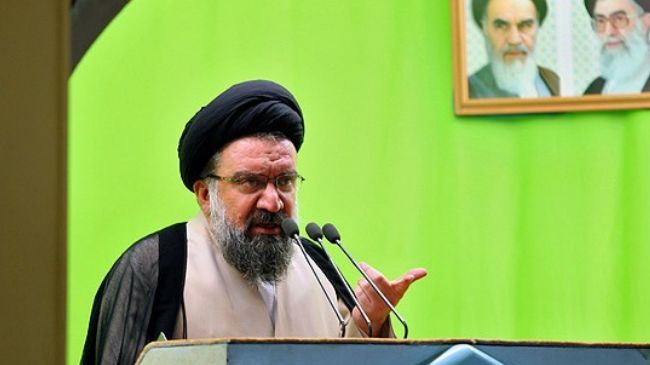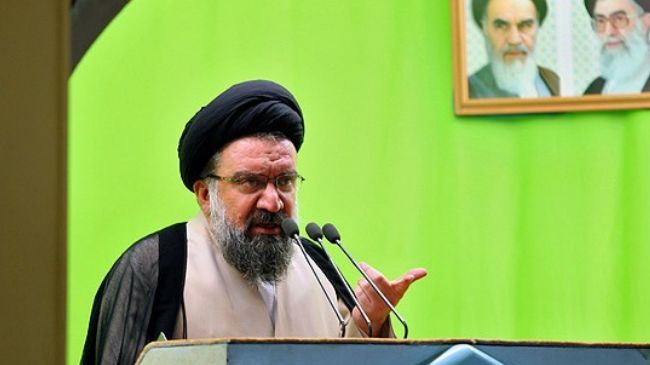 Tehran's interim Friday Prayers Leader Ayatollah Ahmad Khatami says the global arrogance will fail in its 'all-out economic war' against Iran as the Islamic Republic has proven that it will not yield to pressure.
Ayatollah Khatami noted that the Iranian nation would continue to resist pressure and emerge victorious as it did during the eight-year Iraqi-imposed war on the country.
"These pressures won't last. The Iranian nation has proven that it will not be worn down by pressures and has experienced how to live with problems, but they (Western powers) don't have this experience," he said.
The Iranian cleric stressed that the Iranian nation would defeat its enemies with the help of God.
The US and European Union have imposed financial sanctions on Iran over its nuclear energy program, claiming that Iran is pursuing non-civilian objectives in its nuclear energy program.
Iran rejects the allegations, arguing that as a signatory to the nuclear Non-Proliferation Treaty and a member of the International Atomic Energy Agency it is entitled to develop and acquire nuclear technology for peaceful purposes.
On the US government's removing of the terrorist Mujahedin-e Khalq Organization (MKO) from its blacklist of terrorist organizations, Khatami said the move showed US animosity towards the Islamic Republic.
The senior Ayatollah added that by delisting MKO, they want to convey this message that they have stood up against the Islamic Revolution and the whole world knows today that the US is the command center in the fight against the Islamic Revolution.
The MKO is responsible for carrying out numerous acts of terror and violence against Iranian officials and civilians as well as the people of Iraq.
The US formally removed the MKO from its list of terror organizations last Friday; one week after Secretary of State Hillary Clinton sent the US Congress a classified communication about the move.