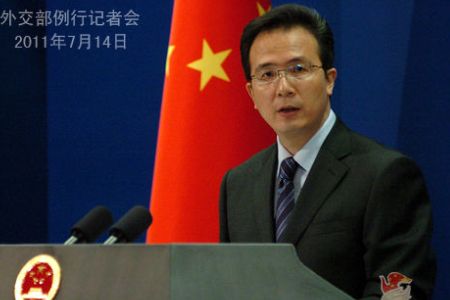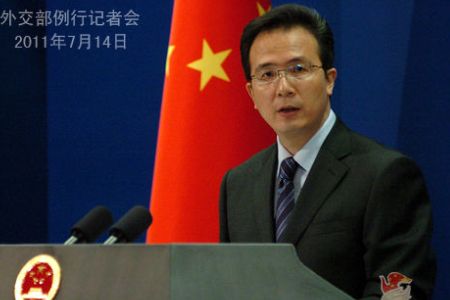 The Chinese and Russian governments have called on Western countries to show restraint over Iran, warning them against escalating tensions with the country.
"We hope the countries involved will keep calm, rational and restrained to avoid emotional actions," that can aggravate the situation, Chinese Foreign Ministry spokesman Hong Lei was quoted by Xinhua as saying at a press briefing in Beijing on Thursday.
The remarks came after British Foreign Secretary William Hague ordered the closure of Iran's embassy in London following a Tuesday protest rally staged by Iranian students outside the British embassy in Tehran.
The student rally followed Iran's Majlis (parliament)'s approval of a bill aimed at downgrading ties with the UK and in protest at Britain's hostile policies towards the Islamic Republic.
On Thursday and in an apparent reaction to the rallies, foreign ministers of the European Union (EU) imposed sanctions against 180 more Iranian individuals and companies, but failed to bring into force an embargo against the country's oil sector. The ministers, however, claimed that they would keep working on developing additional restrictive means, which would directly affect Iran's oil industry.
Hong added that China had "taken note of" the aggressive responses to the student protests.
Russia has also cautioned Western countries against further souring their relations with Iran.
"We speak out categorically against cranking up a spiral of tension and confrontation on issues linked with Iran. We believe that this … is fraught with severe consequences," Russian Foreign Ministry spokesman Alexander Lukashevich said on Thursday.
"The increasing tensions in relations with Tehran is essentially blocking the renewal of talks" between Iran and the five permanent members of the UN Security Council — Britain, China, France, Russia, and the US — plus Germany (P5+1) over Tehran's nuclear program, Lukashevich added.
On November 21, the United States, Britain, and Canada imposed unilateral sanctions on Iran's energy and financial sectors after a November 8 report by the International Atomic Energy Agency (IAEA) on Tehran's nuclear program, which had alleged diversion in the Islamic Republic's nuclear activities.
The report has been dismissed by Tehran as "unbalanced, unprofessional, and prepared with political motivation and under political pressure by mostly the United States."
The US, Israel, and some of their allies accuse Iran of pursuing military objectives in its nuclear program and have used this pretext to push for the imposition of sanctions on Tehran as well as to call for the launch of a military attack against the country.
Iran, however, refutes such allegations as 'baseless' and maintains that, as a signatory to the nuclear Non-Proliferation Treaty and a member of the IAEA, it has every right to acquire and develop nuclear technology for peaceful purposes.
The agency has conducted numerous inspections of Iran's nuclear facilities, but has never found any evidence of diversion in Tehran's civilian nuclear program.