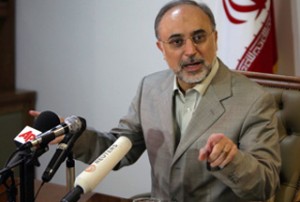 Iran's top nuclear official says contrary to Western claims, the world powers have strictly "political" concerns about Tehran's peaceful nuclear program.
"They regard themselves as the authority that can determine right from wrong, but they only speak up when something is against their interests," the head of Iran's Atomic Energy Organization (AEO), Ali Akbar Salehi, said in a Tuesday television interview.
"However, as we can all see, they prefer to keep quiet when it comes to other human rights issues, such as the massacre of Palestinians in the Gaza Strip."
Salehi then brought up the issue of North Korea's nuclear program and said that Washington could not exert much pressure on Pyongyang as it had close ties with China, Russia and South Korea.
"However, as you see, they are still suspicious about Iran's nuclear program although a group of UN nuclear watchdog experts inspect Iran's sites every fortnight," he added.
Salehi condemned the West's dual approach towards the nuclear issues and said while North Korea, Pakistan, and India conduct nuclear weapons tests, build atomic warheads and allow no inspections of their sites, it is Iran that is facing sanctions.
Iran, a signatory to the nuclear Non-Proliferation Treaty (NPT) and a member of the International Atomic Energy Agency (IAEA), is running a nuclear program aimed at generating electricity for a growing population.
As the country's first nuclear power plant in Bushehr is nearing its launch date, Tehran has announced plans to expand its nuclear program to meet the country's growing need for power.
The West, however, accuses the country of seeking to develop nuclear weapons.
Iran has rejected the allegations and called for the removal of all weapons of mass destruction from across the globe.
The IAEA, which is constantly monitoring Iran's activities, says there is no evidence to prove Western allegations against Tehran.