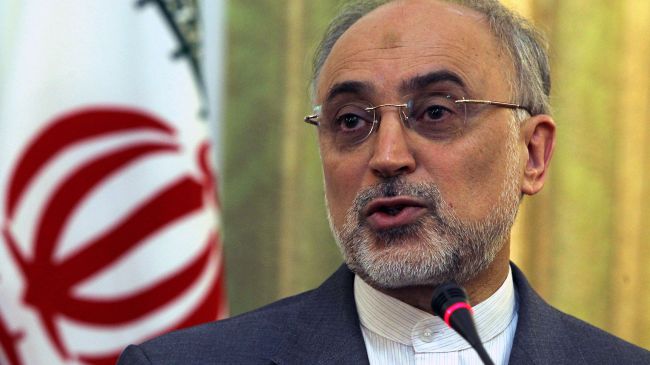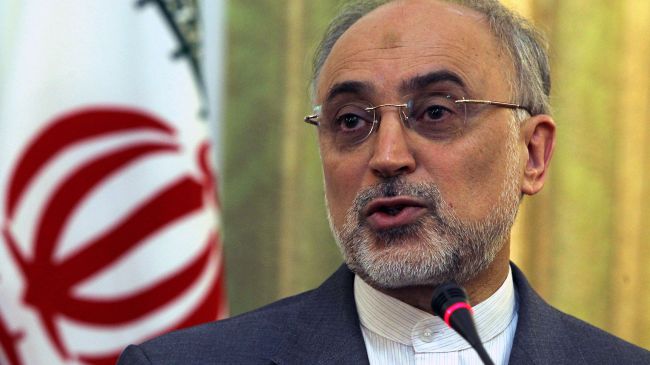 Iran's Foreign Minister Ali Akbar Salehi says the Islamic Republic has a self-sufficient economy and the West's sanctions cannot have long-lasting effects on it.
"Iran is a great country … and the West's sanctions cannot have significant effects on our country's economy," Salehi told reporters after a meeting with his Azeri counterpart Elmar Mammadyarov in Baku on Monday.
Referring to numerous cultural, religious and linguistic commonalities between Iran and Azerbaijan, the Iranian foreign minister added, "Not many countries in the world have so many historical commonalities."
Underlining Iran's support for Azerbaijan's territorial integrity, Salehi said that Iran has always supported a peaceful solution to the dispute over Nagorno-Karabakh enclave according to the UN Security Council resolutions.
In a separate meeting with representatives and heads of Iranian institutions in the Azeri capital, Baku, on Monday, Salehi stated that the two countries should deepen mutual relations to a level that they cannot be damaged by any issue.
He also thanked the Iranian institutions for their efforts to expand Tehran-Baku relations and emphasized the need for improving the situation of Iranians in Azerbaijan.
Salehi arrived in the Azeri capital of Baku on Monday, October 15, to take part in the 20th Economic Cooperation Organization (ECO) Meeting of the Council of Ministers.
The ministerial meeting of ECO is scheduled to be followed by the 12th ECO Summit of Heads of State and Heads of Governments on October 16, which will be attended by Iranian President Mahmoud Ahmadinejad.
ECO is an intergovernmental regional organization established in 1985 by Iran, Pakistan and Turkey for the purpose of promoting economic, technical and cultural cooperation among the member states.
In 1992, the ECO expanded its membership to include seven new countries of Afghanistan, Azerbaijan, Kazakhstan, Kyrgyzstan, Tajikistan, Turkmenistan and Uzbekistan.