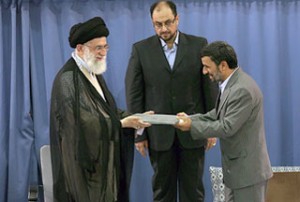 With hours left until the inauguration of President Mahmoud Ahmadinejad, the US president and some of his European counterparts join Germany in refusing to congratulate the Iranian official.
US President Barack Obama on Tuesday clarified Washington's stance with regards to the disputed re-election of Ahmadinejad as Iran's president.
"I don't have any reason to believe we will send any letter [to congratulate the Iranian president]," White House spokesman Robert Gibbs told reporters.
French President Nicolas Sarkozy, for his part, is set to snub President Ahmadinejad after he is inaugurated on Wednesday.
"There is no plan to send any message," an official at the Elysee Palace told Reuters.
In addition, British Prime Minister Gordon Brown will not send a congratulatory message to Ahmadinejad, who, according to official election results, garnered almost two-thirds of the votes.
"The prime minister will not be writing to congratulate Mr. Ahmadinejad," a spokesman said on Tuesday.
The political brush-offs follow an earlier snub by Germany on Monday saying that Chancellor Angela Merkel will not send a customary congratulatory letter to the Iranian official.
Merkel's spokesman Klaus Vater said on Monday that "In view of the circumstances of the controversial re-election, the chancellor will not, as usual, write the customary letter of congratulation" to the Iranian president.
After the presidential poll in June, the opposition maintains that the election was "fraudulent" and calls for its annulment.
Ever since the official announcement of the poll result, Iran has witnessed widespread protests as supporters of defeated presidential candidates Mir-Hossein Mousavi and Mehdi Karroubi take to the streets to protest Ahmadinejad's re-election.
Iranians across six continents have since staged numerous demonstrations in protest at the result of the vote, calling on different governments not to acknowledge Ahmadinejad as Iran's president.
Iran's Guardian Council, the electoral watchdog, has disputed any allegation against the validity of the June 12 vote.
The Leader of the Islamic Revolution, Ayatollah Seyyed Ali Khamenei, on Monday formally endorsed Ahmadinejad's presidency.
The president is due to be sworn in by the Iranian Parliament, Majlis, for a second term on Wednesday morning.