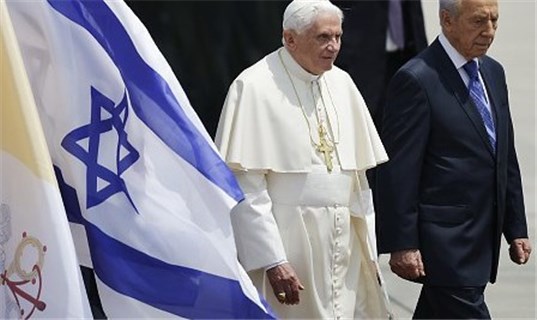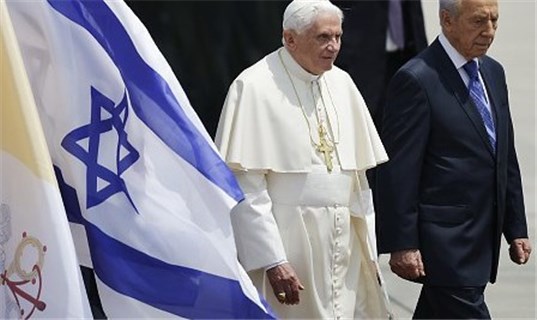 Pope Benedict XVI has unexpectedly resigned from his position as high priest of Roman Catholic Church in Vatican purportedly for old age and frailty.
He has said that he would dedicate the rest of his life to prayer, eulogizing God. But was that all the event? Some believed that he wanted to avoid a fate similar to Pope Jean Paul II's, and resigned before frailty inevitable effects dominates his body. Some others attribute his resignation and violation of churches' 600-years tradition to sexual abuse rampant among Catholic priests and churches' silence on their unpardonable sin.
Pope Benedict XVI has given 'old age' and frailty as reasons for his resignation
But perhaps examination of Vatican-Zionists (especially, Israel) would shed light to some dark corners of the Pope's resignation. Jewish Zionist organizations did not reacted in specific manner to Pope's resignation and only sent diplomatic messages. The reality is that despite the veneer of normalcy in Zionism and Vatican relations, Pope Benedict XVI was not another Judas for the Israelites, a thing that angered and frustrated the Zionists.
Were Israel-Vatican ties friendly behind the closed doors?
Pope visited Auschwitz, but annulled the decree excommunicating a denier of Holocaust. He visited western wall of Al Aqsa Mosque, but demanded elimination of separation barrier constructed by Israel. He condemned Jewish genocide during WW II, but canonized the pope denying the genocide as authentic. Richard Williamson's excommunication decree, a priest who did not believe in Holocaust and gas chambers, was annulled by Pope Benedict XVI.
The excommunication decree against Richard Williamson was annulled by Benedict. Williamson denied that Holocaust and gas chambers ever existed
In the following report, we examine Pope and Zionist relations. Pope denounces separation wall, prays for lifting Gaza blockade by Israel In 2009 visit to West Bank, Pope denounced construction of separation wall by Israel, and demanded lifting constraints imposed on Gaza Strip. His views are completely planned, and although he pointed to Israel's security concerns, but focused his speech on the impacts by the separation wall on Palestinian daily lives. "It is tragic to see walls still being erected, in a time when more space is opened for trade and free movement of individuals and cultures," Benedict said during his visit to Bethlehem refugee camp. Furthermore, Pope demanded more international pressure for a Palestinian State, and said that he would pray for lifting blockade on Gaza by Israel.
Pope demands demolition of separation wall and lifting Gaza blockade
He also pointed to May 1948 conflicts and expressed his sympathy with all Palestinians who waited so long for a return to their homeland. Canonizing Pope Pius XII, Catholic pope during WW II Pope Pius XII was elected as High Priest in 1939 during early day of WW II, and was high pontiff till 1958. He refused to sign the Allied forces statement condemning genocide and anti-Semitism in Nazi Germany, a thing severely criticized by Jews. Jewish groups all around the world condemned the act by the pope. In 2009, rumors had it that Pope Benedict XVI was attempting to speed the canonization process of Pope Pius XII.
Canonizing Pope Pius XII by Benedict was a factor of discord between Zionists and Vatican
Pardoning excommunicated priest for denial of Holocaust Vatican and Zionist Jews relations went even more confounded in January 2009, when Pope Benedict XVI annulled the excommunication decrees against four priests of Society of Saint Pius X. The Society rejects the dialogue between Judaism and any other religion. The group has exposed much evidence to reveal the Jewish conspiracies to gain dominance over the world on internet and their websites. Richard Williamson was one of four priests re-co-opted by the Catholic Church.
Angela Merkel intervened in Vatican-Jews case supporting Jewish cause
The British priest believed that no forced working camps and gas chambers excised ever in Nazi Germany. Lifting excommunication decrees angered many Zionist Jews. The debate reverberated outside the Jewish communities, where Angela Merkel, German Chancellor, demanded Pope Benedict XVI to evidently condemn the deniers of the Holocaust.
Williamson was convicted in a court in Germany for denial of the Holocaust. The appeal court acquitted him, but early 2013, he got a guilty verdict.
Durban 2 conference condemns Zionist apartheid
Durban II conference widens the gap between Benedict and Zionist Israelis Benedict's decision to send a papal delegation to conference on racism in Durban, South Africa, debating Zionist regime apartheid policies, widened the gap between Vatican and Israel. Israel's allies such as US, Canada, and Italy did not send a delegate, but Vatican had its own delegation. Benedict deemed conference as important and hoped that the outcome of the conference helps end racism in all types, discrimination and intolerance. Zionists wanted to see that Pope, who knew that Iran's President Mahmoud Ahmadinejad attended, would refuse to dispatch a delegate. But that did not happen. And when Western delegations left the meeting hall when Ahmadinejad addressed, papal delegation remained in the hall.
Bechara Boutros' selection by the Pope incited Zionists' severe rebuke!
Pope chooses pro-Hezbollah and Lebanon priest as aide Last year, an Israeli news website reported that a Lebanese Maronite bishop, elected by the Pope as one of his 6 aides, have anti-Israeli views and supported Iran and Hezbollah. The report was hinting to remarks by Patriarch Mar Bechara Boutros al-Rahi who had told in Paris that he supported Hezbollah against Israel. "Officials from Hezbollah recently have participated in election ceremony of 6 papal aides in Vatican, Rome," wrote the website.
Election of Boutros al-Rahi by Pope was dismayed by Zionists The report added that al-Rahi has recently sent a delegate to Tehran's anti-Zionism conference, where delegates from Hezbollah and Hamas attended.
Zionist and Jewish circles reactions belies their intolerance of any independent decision by Pope, and when faced with a decision by Pope going against their interests, severely swarmed the Pope with criticism and called him even ' conspirer to destroy Jews.'