Middle East
Syria
White Helmets, Tahrir Al-Sham Terrorists Preparing for False Flag Chemical Attacks in Idlib
Tahrir al-Sham al-Hay'at (the Levant Liberation Board or the Al-Nusra Front) terrorists in cooperation with White Helmets and European experts have dispatched new shipment of chemical substances to Idlib in line with preparations for launching a false flag chemical attack in a bid to accuse the Syrian Army, media sources reported.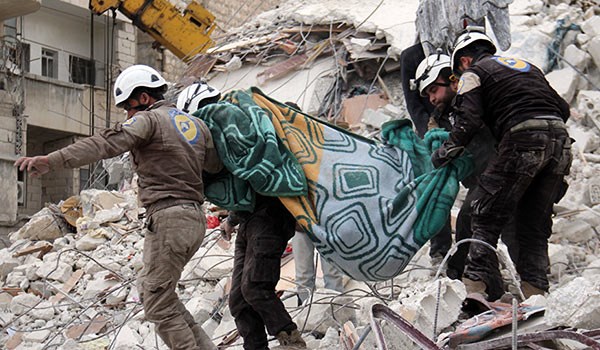 Tahrir al-Sham terrorists have recently sent chlorine gas capsules from a hospital in the city of Jisr al-Shoghour in Southwestern Idlib to the Western part of Khan Sheikhoun city in Southeastern Idlib, the Arabic-language service of the Russian Sputnik News Agency quoted local sources in Idlib province as saying.
The sources pointed to the record of Tahrir al-Sham in sending foreign chemical experts, including French and Belgians, together with special chemical substances equipment from the town of Atmeh near borders with Turkey to the region, and said the terrorists are probably planning to equip their missiles with chemical substances.
The local sources, meantime, quoted a member of the White Helmets as saying that tens of women and children who had been abducted from a refugee camp near Turkish border have been transferred to Khan Sheikhoun.
They noted that the terrorists most likel plan to launch a false flag chemical attack by using women and children or launch real chemical attack on contact lines with Syrian Army and safe towns and villages in contact lines.
In a relevant development earlier this month, Russian Foreign Ministry Spokeswoman Maria Zakharova addressing a briefing said that the terrorists were establishing arms caches in several Syrian provinces to stage chemical weapons provocations.
"There are alarming reports, which say that members of the Hayat Tahrir al-Sham terrorist group, together with the White Helmets, were getting ready to stage chemical agent attacks, planning to accuse the Syrian government of using chemical weapons," she stated.
"Terrorists are establishing arms caches in the Aleppo, Idlib, Lattakia and Hama provinces," the Russian diplomat pointed out.
The Syrian government has repeatedly accused the White Helmets of being part of various rebel groups, while Russia has accused the group of staging alleged chemical attacks in order to provide pretexts for Washington military intervention in Syria.
Evidence of White Helmet involvement with anti-government militants and other abuses, such as organ harvesting and endangering children, was presented to the UN in December.