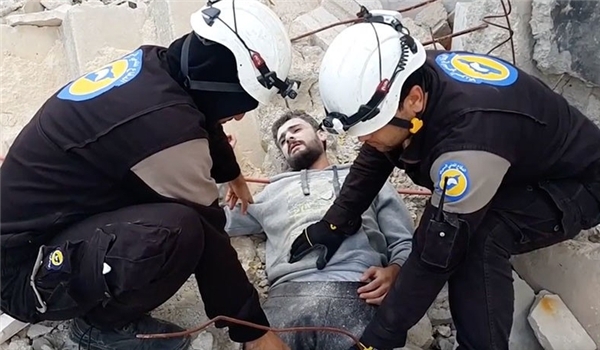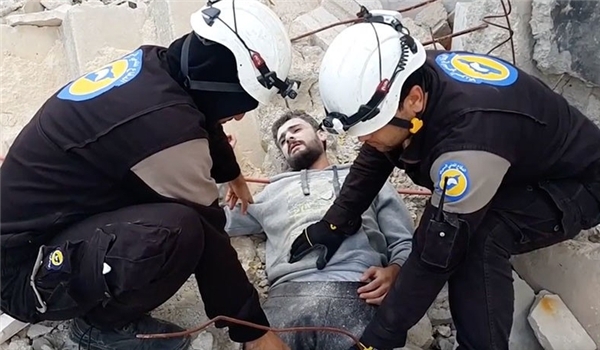 The pro-militant White Helmets Organization and Tahrir al-Sham Hay'at (the Levant Liberation Board or the Al-Nusra Front) terrorists with the help of European experts are planning to transfer poisonous materials to new locations in Southern Idlib in preparation for a false-flag chemical attack, an Arab media outlet reported on Tuesday.
The Arabic-language service of Russian Sputnik News Agency reported that Tahrir al-Sham terrorists have transferred a chlorine cargo to Southern Idlib from the command center of Turkistani Islamic Party in Jisr al-Shoghour region.
The source noted that the chemical consignment comprised of five cargos of chlorine gas sent by two ambulances belonging to the White Helmets and under the supervision of three foreign experts from the UK and Belgium.
It said that the chlorine capsules are now stored in warehouses with cooling facilities in Khan Sheikhoun region in Southwestern Idlib.
The report comes as Russia had warned last Thursday about terrorists' efforts to stage false-flag chemical attack on civilians to later accuse the Syrian army of the attack.
In a relevant development in early November, Sputnik quoted another source as disclosing that Tahrir al-Sham and Jeish al-Izza terrorists launched vast investigations to find sources behind leaking information about the transfer of the chemical material cargos to different regions in Idlib province.
It further said that Tahrir al-Sham's move came after terrorist groups held a meeting in Khan Sheikhoun in to set up an investigation committee.
The Arabic Sputnik went on to say that the committee is responsible for questioning the terrorists and members of the pro-militant White Helmets Organization over the leaked information.
Different Arab media outlets have released reports about chemical activities of the terrorist groups in Idlib in recent months.
In the meantime, informed sources reported in late October that Jeish al-Izzah transferred 2 cylinders of Sarin and Chlorine gases from al-Latamina to Qala Maziq in Northwestern Hama to hand over them to allied militants of Ansar al-Tohid.