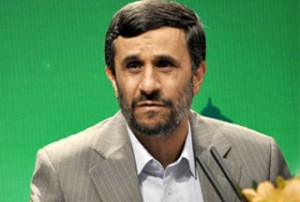 Iranian President Mahmoud Ahmadinejad has so far identified six of the ministers he intends to nominate for his new cabinet.
Hojjatoleslam Heydar Moslehi, nominated to head the Intelligence Ministry, is a representative of the Leader of the Islamic Revolution in the ground forces of the Islamic Revolution Guards Corps (IRGC), as well as the Iranian Charity Organization.
He is also an advisor to the head of the Islamic Development Organization.
Ahmadinejad named Marzieh Vahid-Dastjerdi as his health minister nominee and Fatemeh Ajorlou, a lawmaker, as his choice for the social welfare ministry.
Dastjerdi is a 1998 graduate in Obstetrics and Gynecology. She is currently an associate professor and a member of the Medical Ethics Board Committee in Tehran University of Medical Sciences.
Ajorlou, a serving member of the Iranian Parliament, is also a PhD student in educational psychology.
Ahmadinejad will also introduce Mohammad Abbasi as the nominee for the Ministry of Cooperatives.
Born in 1958, Abbasi has served as the cooperatives minister in the first term of Ahmadinejad's government. He is currently pursuing a PhD degree in management.
Ali-Akbar Mehrabian will remain in his post as the Minister of Industries.
Mehrabian, 40, holds a Bachelor of Science degree in civil engineering from University of Science and Technology.
After the dismissal of Ali-Reza Tahmasbi in 2007, the Iranian president named Mehrabian as the caretaker of the Ministry of Industries.
Mehrabian is the managing director of Shahrvand and Refah chain stores and an advisor to President Ahmadinejad.
Shamseddin Hosseini, 42, was also named as President Ahmadinejad's nominee for the Ministry of Economy and Finance.
Hosseini got his PhD degree in economics from the Islamic Azad University in 2005.
He has taught at the Islamic Azad University, Payame Nour University and Allameh Tabataba'i University.
Ahmadinejad was sworn in on August 5 for a second four-year term after winning a land-slide victory in the disputed presidential election in June.
He has been criticized by pro-government Principlists for not seeking Parliament consultation in selecting his ministers.
The Iranian president was also criticized by some during his first term in office for frequently reshuffling the cabinet and for utilizing ministers who lacked experience. He sacked 10 ministers and two central bank directors during his first tenure.
Ahmadinejad has until August 19 to present a Cabinet to Parliament for approval.