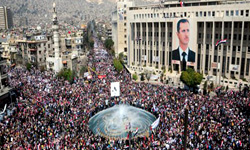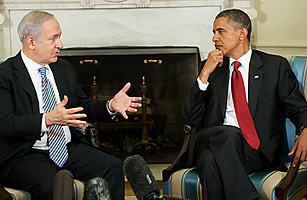 SYRIA: Who is Behind the Protest Movement? Fabricating a Pretext for a US-NATO "Humanitarian Intervention" *
By Global Research
There is evidence of gross media manipulation and falsification from the outset of the protest movement in southern Syria on March 17th.
The Western media has presented the events in Syria as part of the broader Arab pro-democracy protest movement, spreading spontaneously from Tunisia, to Egypt, and from Libya to Syria.
Media coverage has focused on the Syrian police and armed forces, which are accused of indiscriminately shooting and killing unarmed "pro-democracy" demonstrators. While these police shootings did indeed occur, what the media failed to mention is that among the demonstrators there were armed gunmen as well as snipers who were shooting at both the security forces and the protesters.
The death figures presented in the reports are often unsubstantiated. Many of the reports are "according to witnesses". The images and video footages aired on Al Jazeera and CNN do not always correspond to the events which are being covered by the news reports.
There is certainly cause for social unrest and mass protest in Syria: unemployment has increased in recent year, social conditions have deteriorated, particularly since the adoption in 2006 of sweeping economic reforms under IMF guidance. The IMF's "economic medicine" includes austerity measures, a freeze on wages, the deregulation of the financial system, trade reform and privatization. (See IMF Syrian Arab Republic — IMF Article IV Consultation Mission's Concluding Statement, http://www.imf.org/external/np/ms/2006/051406.htm, 2006)
With a government dominated by the minority Alawite (an offshoot of Shia Islam), Syria is no "model society" with regard to civil rights and freedom of expression. It nonetheless constitutes the only (remaining) independent secular state in the Arab world. Its populist, anti-Imperialist and secular base is inherited from the dominant Baath party, which integrates Muslims, Christians and Druze.
Moreover, in contrast to Egypt and Tunisia, in Syria there is considerable popular support for President Bashar Al Assad. The large rally in Damascus on March 29, "with tens of thousands of supporters" (Reuters) of President Al Assad is barely mentioned. Yet in an unusual twist, the images and video footage of several pro-government events were used by the Western media to convince international public opinion that the President was being confronted by mass anti-government rallies.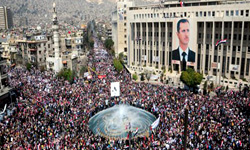 *This article was written by Prof. Michel Chossudovsky.
Michel Chossudovsky is an award-winning author, Professor of Economics (Emeritus) at the University of Ottawa, Director of the Centre for Research on Globalization (CRG) and Editor of globalresearch.ca. He is the author of The Globalization of Poverty and The New World Order (2003) and America's "War on Terrorism" (2005). He is also a contributor to the Encyclopaedia Britannica. His writings have been published in more than twenty languages. He spent a month in Syria in early 2011.