Syria
Why Al-Qusayr takeover by Syrian army is important?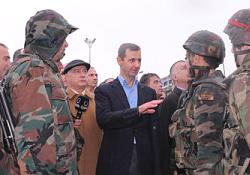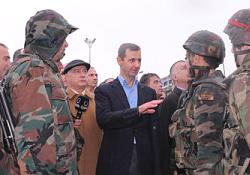 In a strategic success, Syrian army has overtaken large part of Al-Qusayr, inflicting severe defeat on terrorists and capturing hundreds of them.
Al-Qusayr is a strategic region and for its mountainous terrain, it overlooks other surrounding regions, covering all connecting roads. As said before, Al-Qusayr was providing the route for arms and forces entry to Syria, and functioned as headquarters for terrorists to manage the affairs from and sent troops to different regions.
Having putting full siege on Al-Qusayr, Syrian army managed a great victory by overtaking large part of the city. Currently, whole south, west and east of Al-Qusayr are controlled by Syrian army, with northern part being only in terrorists' control. During overtake, hundreds of terrorists were captured, destroying their spirit, and inflicting heavy costs to opposition forces.
The following is a glance at recent victories by Syrian army in Al-Qusayr
· Syrian army has taken control of some government centers including culture center, church, and Municipality square in Al-Qusayr.
· Syrian army has taken full control of Jusiya in Reef Qusayr in Homs province in vicinity of Lebanese borders, and cleared almost all regions from terrorists.
· With Syrian army seizing most villages in Reef Qusayr in central Syria, some terrorist groups entertained the idea of talking to Syrian government and giving up the arms and surrender.
· Syrian state news agency announced several operations by Syrian army in Homs, reporting that the army has destroyed communication roads and tunnels of terrorists in Al-Qusayr.
· Chaharda, Tall Hanash, and Ras al-Maa were strategic points in providing arms and logistics by Lebanese groups to Syria. Farouq Brigades were entrenched in Jusiya and according to graffiti by terrorists, Ahmed Seif al-Din was Farouq Brigades commander. They had the religion under their control since a year, converting the school to their headquarters.
· During Syrian army extensive operation in southern part of Reef Al-Qusayr in Homs province in central Syria, large amounts of weapons of Israeli made were discovered by Syria army and seized.
· Syrian army restores peace and security in cultural centers, church, Municipality square, and al-Qayta neighborhood in Al-Qusayr in Homs province.
· Khabar Press news website reported Israeli Special Forces have entered Al-Qusayr to help Al-Nusra Front. Intelligence agents entered Syria from Lebanon to prevent Syrian army progress towards Al-Qusayr.