Palestine
Wildfires spread in West Bank, more zionist settlers flee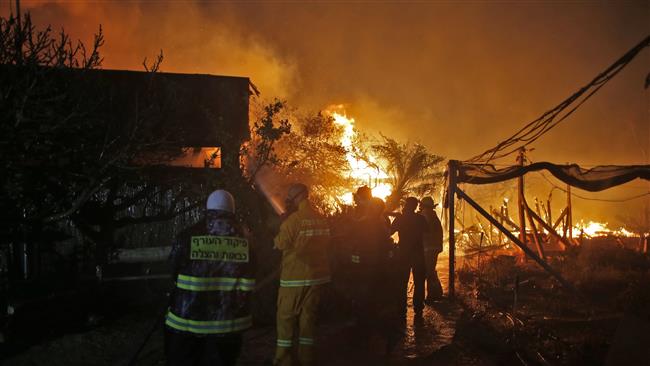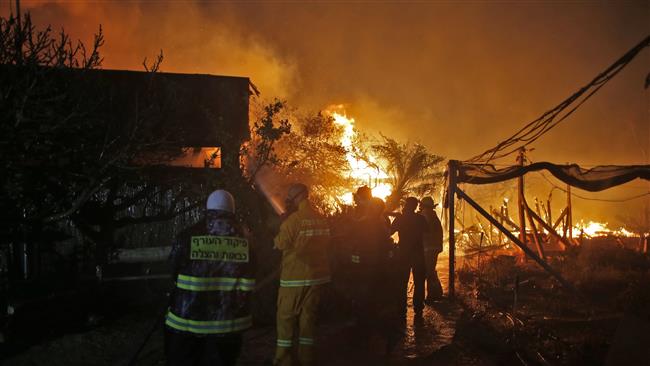 Hundreds of more Israeli settlers have fled as wildfires spread through areas near settlements in the occupied West Bank.
A police spokeswoman said on Saturday that nearly 1,000 settlers were forced to leave the Halamish settlement near the occupied West Bank city of Ramallah as 45 settler units were damaged or destroyed by the fires.
Fires were also reported approaching the settlements of Dolev, Alfei Menashe, and Karnei Shomron in the occupied West Bank. No evacuations were reported there, however.
A lack of downpours together with very dry air and strong easterly winds contributed to the spread of the fires this week across the Israeli-occupied lands.
Israeli officials have suggested, however, that Arabs or Palestinians may be to blame for some of the blazes.
The Israeli police spokeswoman further said that they had arrested 14 people on suspicion of sparking the fires either deliberately or by negligence, without giving details on their identities.
Firefighting planes have arrived from Russia, Turkey, Greece, France, Spain, and Canada and continue to battle the fires at affected locations, including the village of Nataf near Jerusalem al-Quds.
People in Haifa, the hardest-hit city, have begun to return to assess the damage. The fire forced tens of thousands of them to flee on Thursday.
Prime Minister Benjamin Netanyahu said Friday there was "no doubt" some of the fires reported had been set deliberately.
Earlier, the Fatah movement of Palestinian President Mahmoud Abbas said the regime in Tel Aviv is "exploiting the fire" to level new allegations against Palestinians.
"What is burning are our trees and our land of historical Palestine," said the West Bank-based movement in a statement.
The Palestinians reportedly joined the efforts overnight to put out the fires, sending 41 firefighters and eight trucks to Haifa.