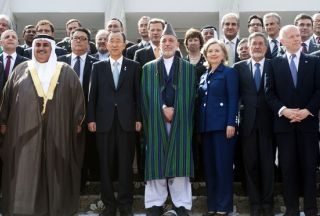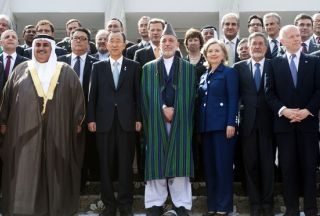 World leaders from over 70 nations and organizations have endorsed the Afghanistan government's plans to take full security control of the country by 2014.
The international conference on Afghanistan — the ninth in nine years but the first in Afghanistan — ended with new plans and pledges for restructuring aid and trying to end militancy in the country.
The nine such conferences have been held in Bonn 2001; Berlin 2004; London 2006; Rome 2007; Paris 2008; Moscow 2009; The Hague 2009; London 2010; and Kabul 2010.
President Hamid Karzai in his address to the delegates, tried to convince them he was capable of assuming responsibility for security and cleaning up the government, AFP reported.
Karzai is under immense Western pressure to crack down on corruption, make better use of the billions of dollars in aid money and quell a strong Taliban insurgency.
The final communique backed Karzai's call for Afghan security forces to "lead and conduct military operations in all provinces by the end of 2014," allowing foreign troops to start pulling out.
UN Secretary-General, Ban Ki-moon, who chaired the conference with Karzai, said the final statement reflected the determination of the international community "to stay engaged for the long term".
"Now we must focus all our energies on making this vision a reality," he said.
Meanwhile, the conference urged Kabul to make reforms to strengthen public financial management and reduce corruption, saying at least 50 percent of development aid would be channeled into the government's budget within two years.