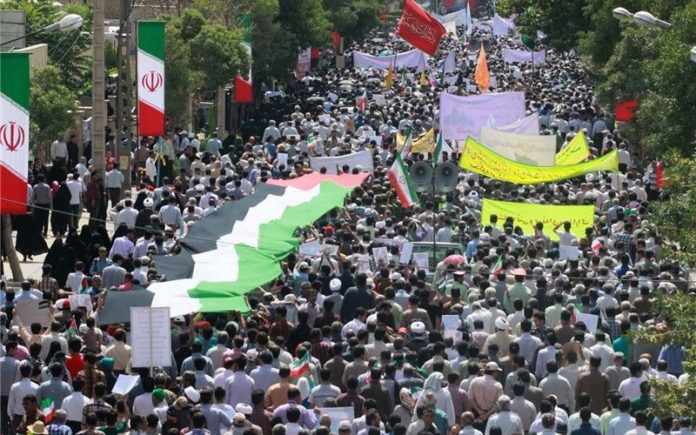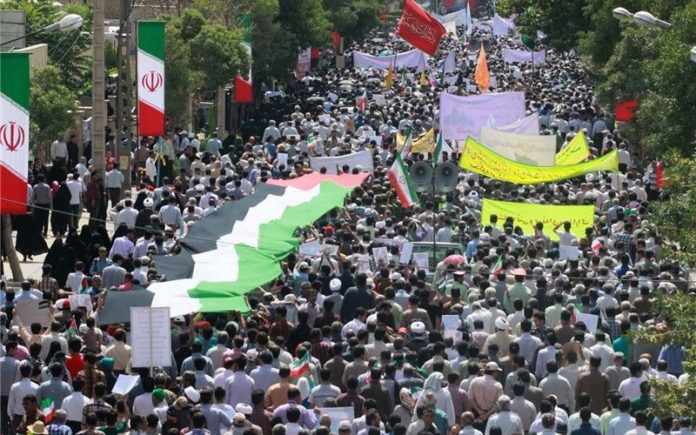 Millions of people are taking to the streets across Iran and other world countries Friday to show their solidarity with the Palestinians and condemn Israel's decades-long occupation and atrocities.
The rallies are held to mark Quds Day, which falls on the last Friday of the Muslim fasting month of Ramadan.
In Tehran and other cities and towns, people from all walks of life gathered for the annual event which usually marks chanting slogans against Israel and burning its flags.
The occasion is a legacy of the late founder of the Islamic Republic Imam Khomeini, followed by Muslims in other countries to support the Palestinian struggle against Israel.
On Wednesday, Leader of the Islamic Revolution Ayatollah Seyyed Ali Khamenei emphasized the importance of Quds Day.
"It is not just that we are defending an oppressed nation that has been driven out of its home. We are actually fighting against an oppressive and arrogant political system," Ayatollah Khamenei said.
Half a century of occupation
Earlier this month, Palestinians marked the 50th anniversary of the 1967 Six-Day War, which saw Israel occupy the West Bank, East Jerusalem al-Quds, the Gaza Strip and part of Syria's Golan Heights.
In November that year, the UN Security Council adopted Resolution 242, under which Israel is required to withdraw from all territories seized in the war.
Tel Aviv withdrew from Gaza in 2005, but has been keeping the coastal enclave under a crippling siege and regular deadly offensives. The regime has also been expanding settlements across the West Bank and East Jerusalem al-Quds in breach of international laws.
The global protests this year coincide with stepped-up killing of Palestinians, their forced displacement and abusive detention by Israel.
World in solidarity with Palestine
In the early hours of Friday, Bahraini people held anti-Israel rallies in different areas to commemorate Quds day.
Bahraini demonstrators mark International Quds Day, June 23, 2017.
The demonstrators also pledged unwavering support for the Palestinian cause.
Elsewhere in eastern Saudi Arabia, people braved a military siege on the Shia town of Awamiyah in the Qatif region and held a rally in solidarity with Palestine.