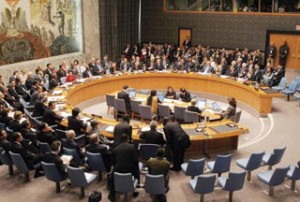 Six key world powers have held fresh talks to discuss their next steps in dealing with Iran over its nuclear program, a US official says.
The US State Department spokesman Mark Toner said that senior diplomats from the US, Britain, Russia, France, China, and Germany spoke by conference call for "consultations on next steps" on pressuring Iran into stopping its nuclear drive.
"We're in a period of intense diplomatic engagement on this issue and this call was within that context," AFP quoted Toner as saying.
The State Department's number three official, Undersecretary for Political Affairs William Burns represented the US in the conference call, Toner noted.
US President Barack Obama on Tuesday acknowledged a lack of unanimity between nations on new Iran sanctions, explaining that the powers had "not yet" closed wide gaps on the specifics of new punitive measures against Iran.
China and Russia, two veto-wielding members of the UN Security Council, have repeatedly called for a diplomatic solution to Iran's nuclear issue.