Europe
'Yellow vest' protester killed in France after being hit by truck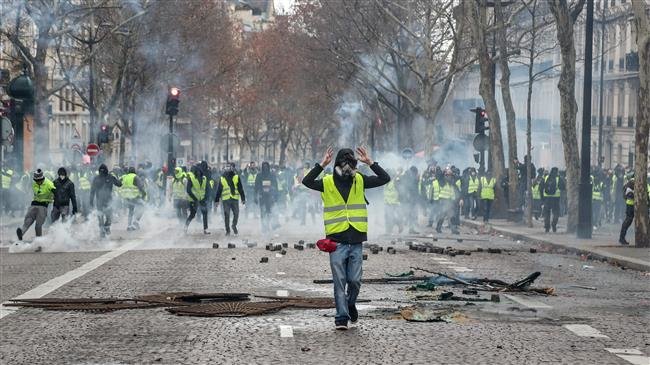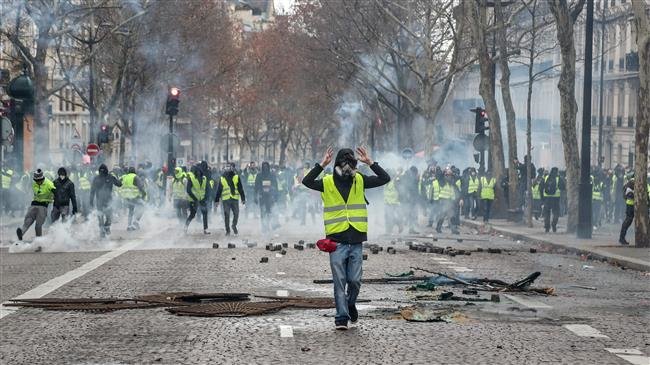 An anti-government protester from the "yellow vest" movement reportedly lost his life after being hit by a truck in southern France.
The incident took place in the early hours of Thursday at a roundabout near a motorway exit in the city of Avignon, according to a local prosecutor.
"The driver of the truck has been taken into custody. The victim was 23 years old," said the deputy prosecutor for Avignon, Caroline Armand. "It appears the driver is a Polish national."
The latest death was the sixth during the nationwide road blockades and protests.
Thousands of demonstrators wearing yellow vests have been gathering in major French cities since November 17 to initially protest President Emmanuel Macron's controversial fuel tax hike — which he later dropped — and the high costs of living in France.
According to a recent survey conducted by the European and English-language digital news publisher The Local, 84 percent of the French people, mostly from the middle-income group, supported the protests. Fuel prices in France have risen more than 20 percent this year.
French authorities earlier said more than1,700 protesters had been arrested and that 200 people, including 17 police forces, had been injured in confrontations during the protests.
In a televised speech on Monday, Macron promised a minimum wage rise and tax concessions in response to the public outcry over rising fuel tax and cost of living.  The embattled president also said that the anger was not just directed at him but had been building up for 40 years.
Macron's remarks drew mixed reactions from French protesters and opposition groups.
The unrest in France has inspired similar protests in Belgium and the Netherlands.
France urges halt to protests after Strasbourg attack
Meanwhile, the French government on Thursday called on the "yellow vest" protesters to refrain from holding another round of demonstrations this weekend, citing the strain on security forces who have been on high alert sicnce a terror attack at a Christmas market in Strasbourg.
"For now we have not banned the demonstrations" that some protesters have called for Saturday, government spokesman Benjamin Griveaux told CNews television. But he called on the protesters to be "reasonable" after President Macron offered a range of financial relief to calm down the unrest.
"Our security forces have been deployed extensively these past few weeks," Griveaux said, insisting that, "It's not up to us to say if the movement should be called off or not."
In the wake of the Strasbourg attack, "it would be better if everyone could go about their business calmly on Saturday, before the year-end celebrations with their families, instead of demonstrating and putting our security forces to work once again," he said.
Strasbourg attacker identified
On Tuesday, a gunman opened fire on visitors at the city's famous Christmas market, killing four people and wounding dozens of others before escaping the area.
French police identified the suspect as Strasbourg-born Cherif Chekatt, 29, who had been known to intelligence services as a potential security risk.
French citizens have been urged to remain vigilant as the suspect is still on the run.