Europe
Yellow vest protests hit Strasbourg in sign of trouble for EU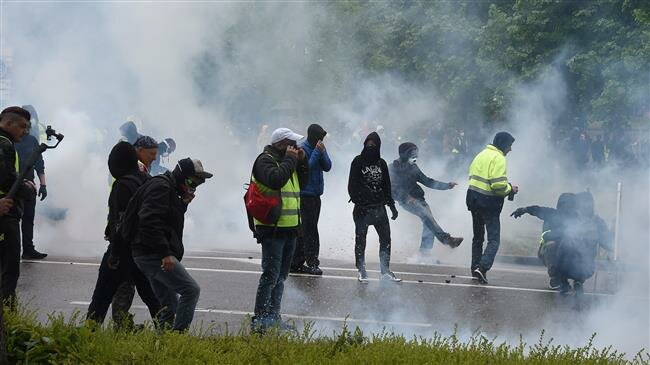 The "yellow vest" protests in France have spread to Strasbourg, the seat of the European Parliament, on the 24th consecutive weekend of a revolt which shows no sign of abating.
Thousands gathered near European Union institutions late Saturday, with organizers hoping to make the protest international a month ahead of EU-wide parliamentary elections.
Police fired tear gas to push back protesters trying to march on the European Parliament building and eyewitness footage showed arrests being made.
Authorities had banned protests and barricaded the neighborhood where the parliament and other EU institutions are located.
Protests were held elsewhere across France, coming two days after President Emmanuel Macron outlined policy proposals including tax cuts worth around 5 billion euros in response to the revolt.
The Interior Ministry said around 23,600 protesters took part in rallies across the country, including Paris, Lyon, Bordeaux, Dijon and Toulouse.
The protests, named after motorists' high-visibility yellow jackets, began in November over fuel tax increases but morphed into a nationwide movement against government policies.
The yellow vests coalition includes numerous anti-Europe protesters, many of whom are calling for a 'Frexit', which would see France leave the EU.
Thousands of police and soldiers are drafted into the French capital every Saturday, when there is regular fighting and fires being lit.
The situation is now so extreme that vast areas of Paris – including the district around the Elysee Palace – are shut off every weekend.
The trouble has extended to other major cities, including Bordeaux and Toulouse, where hundreds have been arrested, or injured by police weapons ranging from flash ball rubber bullets to batons.
Macron has pledged more money for rural areas, but he is still regularly described as a "President of the Rich" who is primarily interested in supporting big businesses.
He has already scrapped wealth taxes, and made it far easier for companies to hire and fire employees.
Macron had originally planned to deliver a reform speech to the nation a week ago, but it was postponed because of the fire at Notre Dame Cathedral in Paris.
Some 1 billion euros has now been pledged for the rebuilding of the medieval place of worship – prompting the yellow vests to ask why other funds cannot be found to deal with their own grievances.