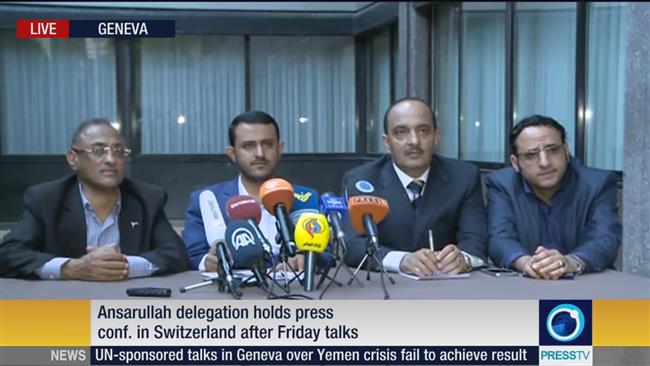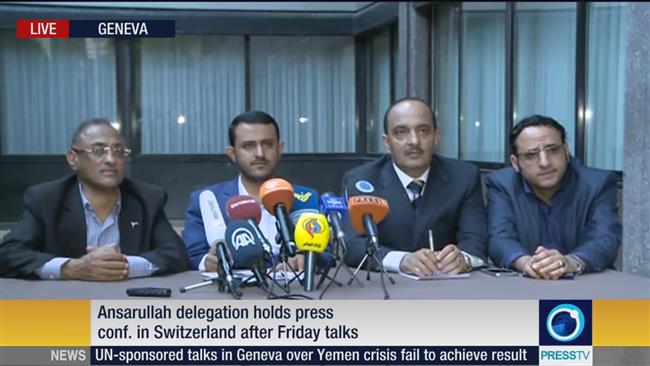 Yemen's Ansarullah movement has lashed out at the Saudi regime for derailing peace talks aimed at ending the deadly conflict in the impoverished Arab country.
In a press conference after the end of the UN-brokered negotiations in the Swiss city of Geneva on Friday, the Ansarullah delegation censured "deliberate obstructions from certain sides" during the peace talks, saying the Saudi-backed group refused to engage in "profound issues".
"This is in order for the Yemenis not to come up with clear solutions and in order for the Saudi aggression and the siege imposed on the Yemeni people to continue," they added.
The Ansarullah movement stated that Riyadh never mediated to settle the disagreements between different Yemeni parties, but instead it has armed and funded certain groups only to heighten tensions in the Arabian Peninsula country.
The Yemeni nation wants to be independent and free, and thus will never succumb to Saudi Arabia's "patronizing" attitude toward their homeland, the Ansarullah delegation added.
The Ansarullah delegation, however, rejected reports that the Geneva talks ended in total failure, noting that the recent negotiations were in fact the beginning of a political process to bridge the gaps between warring factions in the country.
The delegation also welcomed calls by UN Secretary General Ban Ki-moon for a humanitarian truce in Yemen, expressing "high hopes" that all sides would agree on a ceasefire in the near future.
"The Yemeni people are suffering from a catastrophe in the real sense of the word and hence, our stance [towards a truce] is clear," they said, voicing hope that the establishment of a humanitarian ceasefire would be "one of the urgent priorities in the UN Security Council meeting next Monday."
We urge UN Special Envoy to Yemen Ismail Ould Cheikh Ahmed to continue his efforts to find a solution to the worsening crisis in the Arab state, they went on to say.
Earlier in the day, Ahmed confirmed the Geneva talks had ended with no practical results but said that "certain positive signs" could be seen in the negotiations between the warring factions.
"We believe that if there is a further consultation we can reach this possibility of a ceasefire," the UN envoy pointed out, adding, "We can achieve it pretty soon."
On March 26, the Saudi regime started its aggression against Yemen with an aim to undermine the Houthi Ansarullah movement and bring back to power Yemen's fugitive former president, Abd Rabbu Mansour Hadi.
The United Nations says over 2,600 people have been killed and 11,000 others injured due to the conflict in Yemen since March 19.