Yemen
Yemen Army Fires Ballistic Missile in Marib, More Mercenaries Killed in Mede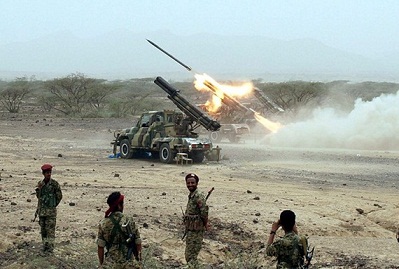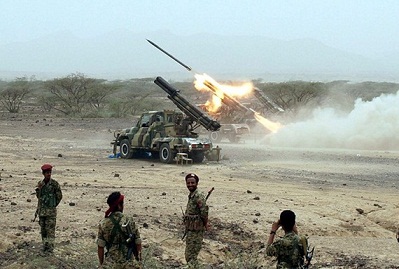 Yemeni army and popular committees fired a ballistic missile on a gathering of mercenaries in Marib, as the allied forces confronted a new attempt by Saudi-led forces to advance in Hijja.
Yemeni sources said that the allied forces fired a Qaher-1 missile on a gathering of mercenaries near Nakhla military camp, killing and injuring many of them.Yemeni army
Earlier, the sources said that more Saudi-led forces and mercenaries have been killed in a new attempt to advance in Mede desert in the western Yemeni province of Hijja.
Field sources reported that dozens of mercenaries were killed as they tried to get into Mede on Wednesday, noting that the advance attempt is the fourth one in the last few days.
Yemeni army spokesman, Colonel Sharaf Luqman, confirmed that 378 Saudi-led mercenaries were killed in attempts to enter Mede desert in the last few days.
"About 378 mercenaries were killed when they tried to enter the border area of Mede from Saudi's Jizan," Luqman said, noting that the "heroes of army and the popular committees thwarted such attempts."
Saudi-led forces tried to enter a Yemeni border town which was liberated by the Yemeni allied forces a month earlier, in a bid to make it a starting point for their advance to Mede, army spokesman said.
However, the Saudi-led advance was failed and Mede along with the border town are under the control of the army and the popular committees, Luqman said.
Yemen has been since March 26, 2015 under brutal aggression by Saudi-led coalition.
Thousands have been martyred and injured in the attack, with the vast majority of them are civilians.
Riyadh launched the attack on Yemen in a bid to restore power to fugitive president Abd Rabbu Mansour Hadi who is a close ally to Saudi Arabia.
However, Yemeni army, backed by the committees has been engaged in battles with Saudi-led mercenaries and Hadi's militias in several areas across the country.