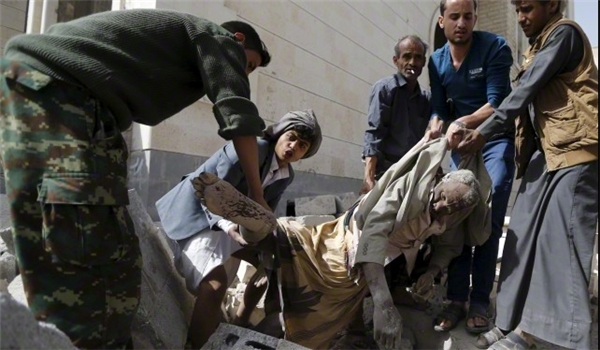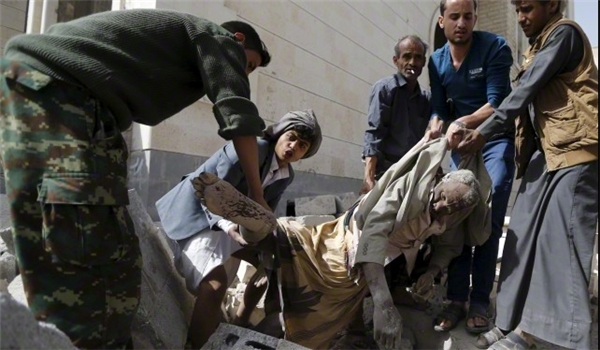 The Saudi-led airstrikes on Yemen's cities left tens of civilians, including children and women, dead over the past 24 hours.
The Saudi airstrikes killed 90 Yemenis despite an announcement by the Al Saud regime last Tuesday that it had ended its aggression against Yemen.
On Saturday, media reports revealed that Saudi Arabia has used Mother of All Bombs (MOAB) against the Yemeni nation in its recent bombardment of the capital Sana'a.
"Saudi Arabia used MOAB bomb during its airstrikes on Faj Attan region in Sana'a this week," Lahaj news website quoted an American military expert saying.
The US expert, who is of Yemeni descent and spoke on condition of anonymity, said after watching the video of the explosions in Sana'a several times and consulting with American military experts he has come to the conclusion that the bomb used by the Saudi regime has been MOAB.
This is for the first time that MOAB is used in real war. The dreadful bomb was dropped by an Egyptian air force TU-16 bomber on the residential area in Sana'a.
The suspected airstrike in Faj Attan killed over 60 civilians and injured more than 400.
MOAB is a thermobaric bomb made by the US in 2003. It is a 9-meter-long bomb and has a diameter of one meter. MOAB's destruction range is about 137 meters. It was first tested with the explosive tritonal on March 11, 2003 at Eglin Air Force Base in Florida. It was again tested on November 21, 2003.
Saudi Arabia has been striking Yemen for 32 days now to restore power to fugitive president Mansour Hadi, a close ally of Riyadh. The Saudi-led aggression has so far killed at least 3,005 Yemenis, including hundreds of women and children.
Hadi stepped down in January and refused to reconsider the decision despite calls by Ansarullah revolutionaries of the Houthi movement.
Despite Riyadh's claims that it is bombing the positions of the Ansarullah fighters, Saudi warplanes are flattening residential areas and civilian infrastructures.
Last Tuesday the monarchy declared end to Yemen airstrikes after four weeks of bombings, but airstrikes are still underway.