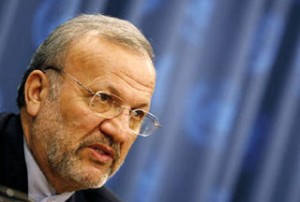 Iran Foreign Minister Manouchehr Mottaki said that Yemen is confronting with some difficulties such as terrorism and al-Qaeda grouplet.
"The internal crisis in Yemen would be solved through negotiation," Mottaki reiterated.
In an interview with IRIB Channel 2, the Foreign Minister termed the presence of American troops in Yemen's conflicts as doubtful and said," The attitude will create military conflicts in the region and target the recent developments in the world of Islam."
"Yemen is in a critical condition and nobody benefits from massacre of Yemeni civilians," Mottaki added.
"Saudi Arabia could safeguard its borders if the country is worry about the issue, but it should not interfere in Yemen's internal affairs," Foreign Minister said.
He said Iran has made no interfere in the internal affairs of Yemen and Yemeni officials have admitted to the issue.
About the 1975 Algiers Accord between Iraq and Iran, the Foreign Minister said," The zero point at the two countries' border has been destroyed during the last years which would be reconstructed."
He said that IRI deputy foreign minister for legal affairs have talked about the issue with Iraqi officials last year and we reached an agreement in this regard but because of internal developments in Iraq, the country could not fulfill the agreement.
"Our troops came back to their position after they did their mission and we agreed to form a technical committee in this regard," Mottaki pointed out.