Middle East
Saudi Arabia
Yemen
Yemen Hezbollah, Saudi-sponsored occupation forces exchange dozens of prisoners
Yemen's Houthi Ansarullah movement and Saudi-sponsored militiamen loyal to former president Abd Rabbuh Mansur Hadi have exchanged dozens of prisoners in a swap in the southern Yemeni governorate of Ta'izz, local sources and media reports say.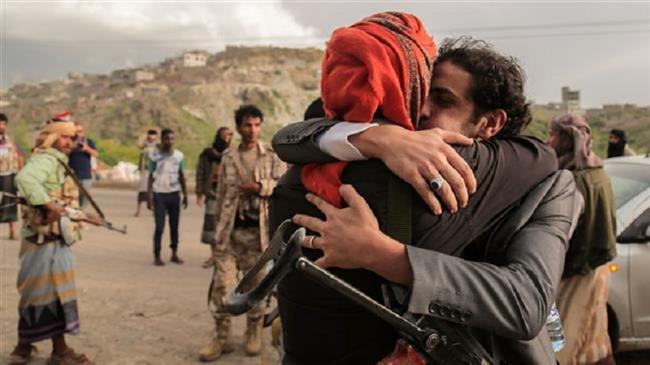 Local sources said 75 detainees affiliated with Hadi's former administration were released on Thursday.
In exchange, 60 people affiliated with the Houthi Ansarullah movement were also released, according to Arabic-language al-Masirah television network.
Yemen's third city of Ta'izz is a volatile front line and has been frequently hit by Saudi airstrikes in recent years.
The head of Yemen's National Committee for Prisoners Affairs (NCPA), Abdulqader al-Mortada, has recently blamed Saudi Arabia and the United Arab Emirates for obstructing prisoner swaps under an agreement reached during UN-sponsored peace negotiations in Sweden last year, arguing that Riyadh is insisting on the release of Saudi troopers only.
The head of the Houthi-affiliated NCPA further highlighted that the fate of an estimated 15,000 people from both Saudi-backed militia forces and the Houthis remains unclear, stating that they are believed to either have gone missing in action or been kept as prisoners.
Ansarullah delegates and Hadi loyalists held peace negotiations in Rimbo, north of the Swedish capital city of Stockholm, in December 2018. The talks resulted in the announcement of a breakthrough agreement.
The document included three provisions: a ceasefire along the Hudaydah front and the redeployment of armed forces out of the city and its port; an agreement on prisoner exchange; and a statement of understanding on the southern Yemeni city of Ta'izz.
Riyadh has reportedly been holding informal talks with the Houthis since late September about a wider ceasefire as it seeks to exit an unpopular war after its main coalition partner the United Arab Emirates withdrew troops earlier this year.
Saudi hold talks with Houthis to break Yemen deadlock: Financial Times Saudi Arabia holds talks with Yemen
Saudi Arabia and a number of its regional allies launched a devastating campaign against Yemen in March 2015, with the goal of bringing the government of Hadi back to power and crushing the Ansarullah movement.
The US-based Armed Conflict Location and Event Data Project (ACLED), a nonprofit conflict-research organization, estimates that the war has claimed more than 100,000 lives over the past four and a half years.
Bin Salman's flawed strategy has dragged Saudis into Yemen quagmire: ExpertsTwo experts have enumerated a series of strategic errors by Saudi Arabia, under Crown Prince Mohammed bin Salman, saying the kingdom is now sliding further into a military quagmire in Yemen.
The war has also taken a heavy toll on the country's infrastructure, destroying hospitals, schools, and factories. The UN says over 24 million Yemenis are in dire need of humanitarian aid, including 10 million suffering from extreme levels of hunger.