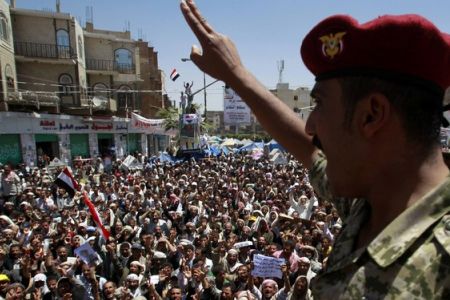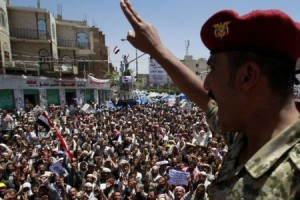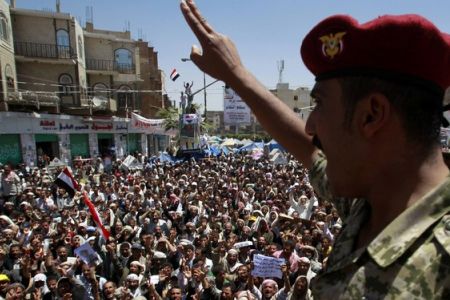 A coalition of opposition groups in Yemen has dismissed President Ali Abdullah Saleh's proposal of quitting power after organizing parliamentary elections by January 2012.
"The opposition rejects the offer as the coming hours will be decisive," Reuters quoted Mohammed al-Sabry, spokesman for the main umbrella opposition group, as saying on Tuesday.
Saleh had previously vowed not to run for presidency after his current term finishes in 2013. He had once promised to leave office in 2005 and broken it, providing reasons not to be trusted.
As pressure is mounting on Saleh, the opposition groups have given him a 48-hour ultimatum to step down.
Saleh has suffered another setback as more high-ranking army generals, ambassadors and tribe chiefs have supported anti-government protesters.
Major-General Ali Mohsen al-Ahmar, the head of the northwestern military zone, and General Ali Abdullah Aliewa, an adviser to the Yemeni supreme leader of the army, have ceased supporting the president, joining the country's popular revolution.
On Tuesday, the president warned against "coups," saying defiance from military officers will push the country to a "bloody" civil war.
"Those who want to climb up to power through coups should know that this is out of the question. The homeland will not be stable; there will be a civil war, a bloody war. They should carefully consider this," he said.
This is while the defected generals have said they do not aim at power by supporting anti-regime protesters, reports said.
Yemen's ambassadors to Syria, Saudi Arabia, Lebanon, Egypt, the Arab League and China, as well as the country's Human Rights Minister, Huda al-Baan, have shown support for protesters, some by resigning from their posts.
The Arab League has strongly condemned the harsh clampdown on protesters, calling for "dialogue and democratic methods to deal with the demands of the Yemeni people in a peaceful manner."
Meanwhile, Yemen's most powerful tribal confederation, which includes Saleh's tribe, has reportedly called on the president to meet people's demands and step down peacefully.
More than 50 people have been killed and scores of others wounded during armed attacks by Saleh loyalists since the beginning of the popular revolution in January.