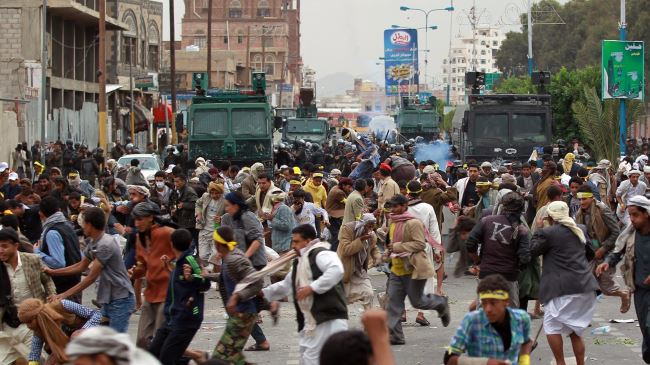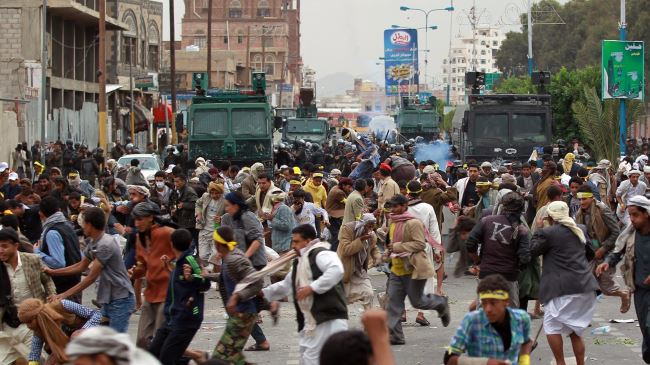 At least one protester has been killed and dozens wounded when Yemeni police attacked anti-government protesters in the capital, Sana'a.
On Sunday, police fired tear gas and live bullets at the Houthis and their supporters who had staged a sit-in near the Interior Ministry, blocking the road to Sana'a international airport.
"We hold the authorities responsible for the repercussions of this aggression, and we stress the right of our people to self-defense using all means if the aggression continues," Houthi spokesman Mohammed Abdulsalam said in a statement.
On August 20, thousands of Houthis strengthened their positions in Sana'a in their efforts to press the Yemeni government to step down.
Since then, Houthi activists have been holding daily rallies in Sana'a, with tens of thousands taking part.
Earlier on Sunday, demonstrators set up new tents blocking access to the ministries of electricity and telecommunications on Airport Road.
The government of President Abd Rabbuh Mansur Hadi has offered to reverse a decision to cut fuel subsidies and form a new government in the country, but the Houthis have rejected the offer.
According to a source close to the presidency, the Houthis have submitted a list of demands, including "uprooting corruption" as well as "giving them more powers within the public prosecution, accountability panel, national security services and the intelligence" services.
They also want Hadi to "consult with them on naming the new prime minister" and the ministers of defense, interior, foreign affairs and finance.
Yemen's Shia Houthi movement draws its name from the tribe of its founding leader, Hussein Badreddin al-Houthi.
The Houthi movement played a key role in the popular revolution that forced former dictator Ali Abdullah Saleh to step down.
Saleh, who ruled Yemen for 33 years, stepped down in February 2012 under a US-backed power transfer deal in return for immunity, after a year of mass street demonstrations demanding his ouster.