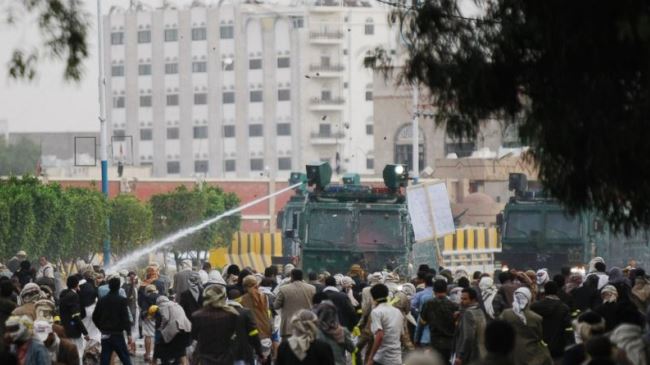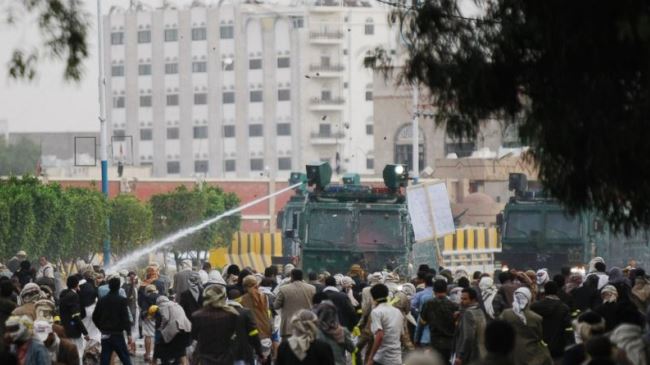 Yemeni President Abd Rabbu Mansour Hadi has fired the country's head of the special forces after a botched attempt to break up the Houthi anti-government protesters.
Yemeni security sources said on Monday that President Hadi has already picked Major General Mohammed Ghadra for the job.
The developments come after a large number of protesters blocked the airport road in the capital city, Sana'a, from the west and south.
Anti-riot police fired tear gas, water cannon and bulldozers at the Houthis and their supporters who have staged a sit-in near the Interior Ministry, blocking the road to Sana'a international airport.
Reports say the security forces have retreated as the protesters held their ground in the areas.
Sources say at least one person has died from tear gas inhalation over the past 24 hours.
The fresh protests come in defiance of the government's plea to end weeks of demonstrations.
President Hadi has already dismissed Prime Minister Mohammed Salim Basindawa and his ministers in a bid to end an ongoing standoff with the Shia Houthi protesters.
However, senior Houthi leaders in Yemen have dismissed a series of proposals put forward by the embattled president.
Houthi leader, Sheikh Sayyid Abdul-Malik al-Houthi, recently called for civil disobedience and expansion of protest rallies against the government.
Houthis have been holding demonstrations since August 20 when they strengthened their positions in the Yemeni capital in an effort to press the government to quit.
They accuse the government of corruption and marginalizing the Shia community.
The Houthi movement played a key role in the popular revolution that forced former dictator, Ali Abdullah Saleh, to step down in February 2012.
Also on Monday, Saudi Arabia reportedly pulled its entire diplomatic staff out of Sana'a.
Houthis say the Saudi regime has been largely responsible for the ongoing chaos in Yemen.