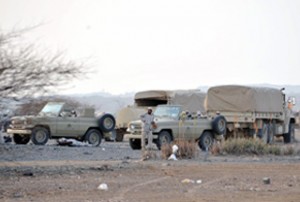 The United States has signed a military agreement with Yemen to help the embattled Sana'a government with its armed offensive on Houthi fighters in the north.
The agreement was signed in Sana'a on Tuesday after two days of talks, the second round of such negotiations, state-run Saba news agency reported.
Under the military pact, Washington will provide the Yemeni army with intelligence and training to strengthen cooperation in the 'extermination of terrorism, smuggling and piracy', Saba quoted Yemen's Chief of Staff Ahmed Ali al-Ashwal as saying.
The deal comes amid accusations against the central government of employing al-Qaeda mercenaries and getting help from foreign forces, the Sunni-dominated Saudi military in particular.
Northern Yemen has been the scene of deadly clashes between the army and the Houthi opposition fighters, who took arms against the Sunni-dominated central government in protest at 'repression and discrimination' against the country's Shia minority.
The conflict escalated to a breaking point in August when Sana'a launched a massive military offensive, namely Operation Scorched Earth, against the Shia fighters.
Meanwhile, the Saudi Arabian air force launched a deadly offensive against Houthis more than a week ago, accusing the Shia fighters of killing two Saudi soldiers on the border.
While Riyadh says that its offensive targeted Houthi positions on 'Saudi territory', the Shia fighters say Yemeni villages, far from the battlefield, were being bombarded.
They also accuse the Saudi air force of repeated use of the forbidden white phosphorus bombs in their attacks in the areas of al-Malahaid and the border region of Jabal al-Dukhan.
White phosphorus, banned under the Geneva Treaty of 1980, is an incendiary material that erupts into flame on contact with air, causing horrific burns, severe injuries or death when it comes in contact with human skin.