Yemen
Yemen students rap foreign meddling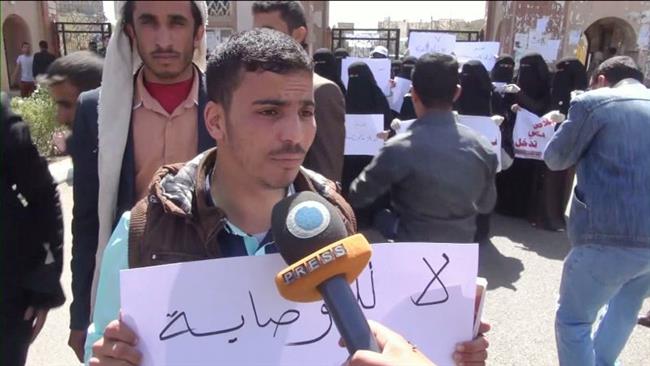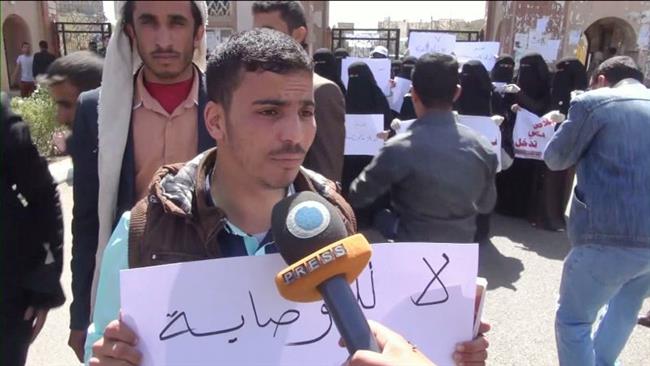 Yemeni university students have staged a protest rally in the capital, Sana'a, to denounce US and Saudi intervention in the Arab country's internal affairs, Press TV reports.
The demonstrators on Monday accused both countries of fueling the turmoil in Yemen in order to secure their own interests in the country.
"Both male and female students came out today at Sana'a University to condemn the US and Saudi intervention, which always seek to implement their Zionist agenda in the entire region," a student protester told Press TV.
The rally came hours after Saudi Arabia approved fugitive former President Abd Rabbuh Mansour Hadi's proposed plan to hold the country's national dialogue in its capital, Riyadh, instead of Sana'a, which is currently under the control of the Houthis.
The Houthi movement has strongly condemned the Saudi measure, unequivocally refusing to participate in the talks.
Students at the Sana'a University said they believed the consequence of holding national dialogue in Saudi Arabia is another crisis.
"Foreign powers are seeking to transform Yemen into a war zone just like Syria and Iraq. It is like what they are doing to Libya," a demonstrator said.
Hadi stepped down in January, but the Yemeni parliament did not approve his resignation, which he later withdrew after leaving the capital. The Houthi movement, however, said that Hadi had lost his legitimacy after escaping Sana'a.
The embattled Yemeni president fled Sana'a on February 21 after weeks under effective house arrest and went to the southern port city of Aden, where he said he would resume duties.
Recently, an aide to Hadi also quoted him as saying that he considers Aden to be Yemen's capital.
The remarks came as some Persian Gulf Arab states, including Saudi Arabia, have already relocated their embassies from Sana'a to Aden.