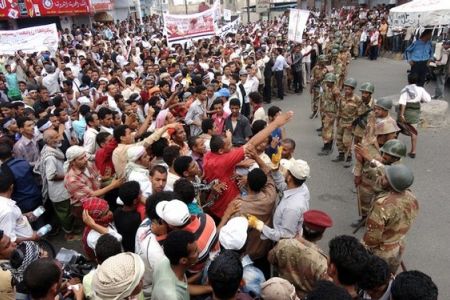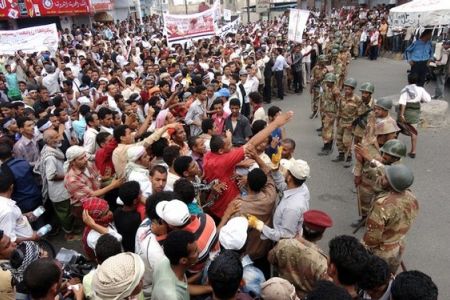 At least four Yemeni demonstrators have been injured following an attack by forces loyal to the country's Ali Abdullah Saleh on a protest march in the southern city of Ibb.
One of the injured is reported to be in critical condition, a Press TV correspondent reported on Wednesday, adding that the protesters were peacefully demonstrating to demand the downfall of Saleh's regime.
Yemeni regime forces have also opened fire on anti-government protesters in Ra'da town in al-Baida province. There were no immediate reports of casualties.
Demonstrators in Ra'da were calling for the prosecution of Saleh's regime elements still inside the country over the killing of hundreds of anti-government protesters since opposition rallies began in the country in late January.
Massive anti-government protests were also held in the southern city of Taizz, where hundreds of thousands of protesters took to the streets to demand Saleh's ouster and to protest against the deteriorating economic situation in Yemen.
Meanwhile, several government officials have defected to the opposition in al-Baida province.
The Yemeni anti-government youth groups have set up a transitional council to manage the country's affairs and to make efforts to force Saleh to give up power before his possible return from Saudi Arabia. Yemenis across the country have expressed their support for the newly formed council of opposition figures.
The 17-member Youth Revolution Council, one of Yemen's largest youth organizations, would include former Yemeni President Ali Nasser Mohammed, former Defense Minister General Abdullah Ali Aleiwa and leaders of several opposition groups, including those in exile.
Tawakul Karman, a member of the transitional council, said the council has three priorities including the abolishment of Saleh's regime, leading the country during a transition period, and the prosecution of Ali Abdullah Saleh, his son, and his officials.
The council will also announce a 501-member "national assembly" that will draft a new constitution, Karman said.
Saleh and five other high ranking Yemeni officials were evacuated to Saudi Arabia for alleged medical treatment following a rocket attack on the Yemeni presidential palace on June 3.
Hundreds of protesters have been killed and many more injured as the result of a brutal crackdown on the anti-government protest by military forces and bands of thugs loyal to Saleh's dictatorship.
Protesters have vowed to continue their protest rallies through the Muslim fasting month of Ramadan until their demands are met.
"We will continue our sit-in through Ramadan, not just during Ramadan, until all of Saleh's regime and their elements are removed. We have now removed the root but we are left with the stem, the corrupt elements who control the oil and petroleum facilities, gas and water," an anti-government protester said.