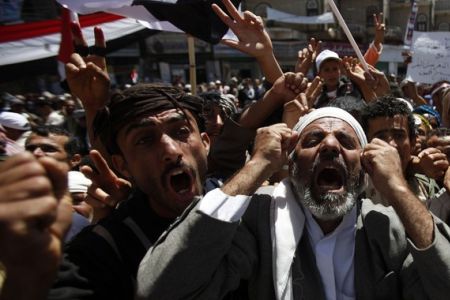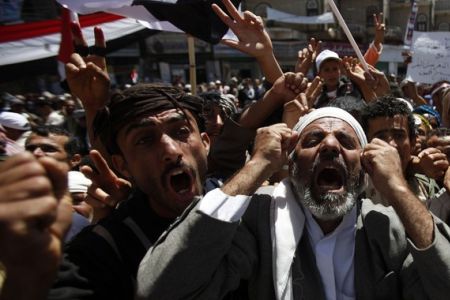 Yemeni security forces have blocked all roads leading to the capital in a bid to prevent more Yemenis from joining anti-government demonstrators, who are demanding the president's ouster.
Hundreds of thousands of anti-government protesters gathered outside Sana'a University for a "Day of Departure" rally on Friday.
Protesters want an immediate end to President Ali Abdullah Saleh's three-decade rule. They also urged authorities to lift the state of emergency declared by the president last week.
"We were in a car of some 25 people, but soldiers told us that the capital was closed. They said we could come after the protests end," said al-Hawlani, whose tribe has joined anti-Saleh protests.
Both supporters of Saleh and anti-government protesters are holding rallies in Sana'a. Witnesses, however, say the crowd demanding Saleh's ouster is bigger than the rally in support of the president, adding that both sides have set up checkpoints in the capital and that the streets are full of armed men.
There were no reports of confrontations between the rivals.
Similar demonstrations were held in the southern provinces of Shabwa and Lahij and the city of Aden.
Meanwhile, the embattled Yemeni president said on Friday that he is ready to hand over power to prevent more bloodshed in the country but only to what he called "safe hands."
"We don't want power, but we need to hand power over to safe hands, not to sick, resentful or corrupt hands … We are ready to leave power but only for safe hands", Saleh said in a televised speech.
"You are the ones who will be handed power," Saleh told his supporters.
The Yemeni president, however, failed to give indication of when he would be stepping down or on what conditions.
Saleh also vowed to fight an escalating campaign to force him out of office by "all possible means" and urged his supporters to "stand firm."
Since the beginning of anti-Saleh demonstrations, nearly 100 protesters have been killed and many others injured during clashes with Yemeni security forces and regime vigilantes.
Last week, more than 50 protesters were gunned down near the Sana'a University, the epicenter of anti-government protests in the capital.
That bloodshed prompted a string of army commanders, including Major General Ali Mohsen al-Ahmar, diplomats and tribal leaders to abandon Saleh and join the opposition severely weakening his position.