Yemen
Middle East
Saudi Arabia
Yemeni army troops, allies foil infiltration bids in Hudaydah, kill Saudi mercenaries
Yemeni army soldiers, supported by fighters from allied Popular Committees, have thwarted two infiltration attempts by Saudi-led coalition forces and their Takfiri mercenaries in Yemen's strategic western province of Hudaydah, leaving scores of them dead.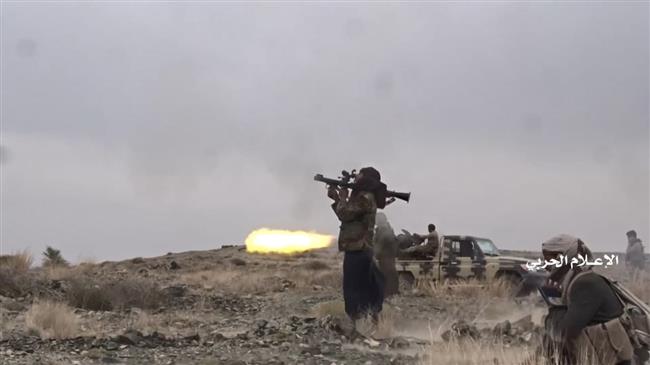 A Yemeni military source, speaking on condition of anonymity, said the Yemeni troops and allies confronted two separate groups of Saudi-led forces and militants who were attempting to sneak into al-Faza area, south of the provincial capital city of Hudaydah, on Thursday.
Saudis violate Hudaydah truce 190 times in 24 hours
Yemen's al-Masirah television network said Saudi-led military coalition and their mercenaries had violated 203 times during the past 24 hours a ceasefire agreement  on Hudaydah.
Citing an unnamed source in Yemen's Liaison and Coordination Officers Operations Room, the television said the violations included 34 reconnaissance flights over various regions in addition to 98 counts of artillery shelling and 136 shooting incidents.
Saudi warplanes bomb Ma'rib
Later in the day, Saudi warplanes carried out nearly two dozen airstrikes against Rahabah and Jabal Murad districts in the central Yemeni province of Ma'rib.
There were no immediate reports about possible casualties and the extent of damage.
Saudi Arabia, backed by the US and regional allies, launched the devastating war on Yemen in March 2015, with the goal of bringing the government of fugitive former president, Abd Rabbuh Mansur Hadi, back to power and crushing Ansarullah movement.
Yemeni armed forces and allied Popular Committees have, however, gone from strength to strength against the Saudi-led invaders, and left Riyadh and its allies bogged down in the country.
The Saudi war has left hundreds of thousands of Yemenis dead, and displaced millions more. The war has also destroyed Yemen's infrastructure and spread famine and infectious diseases across the Arab country.