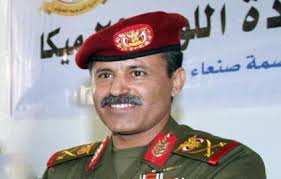 Yemeni Defense Minister Mohammed Nasser Al-Atefi hailed the development of Yemen's defensive and offensive capabilities, stressing that the country became a power capable of confronting any invasion or occupation.
As he was touring a military camp in Al-Baqe'e on Thursday, Al-Atefi praised the Yemeni Army and the Popular committees for their sincere efforts in building up the revolutionary force in the face of Saudi-led aggression.
Al-Atefi meanwhile, conveyed greetings of "leader of the revolution Sayeyd Abdul Malik Al-Houthi as well as the political and military leadership to the heroes of the Yemeni Army and Popular Committees," Ansarullah revolutionary movement reported on its website.
"We will witness victory in the coming months, god willing," Al-Atefi vowed.
"Our people have been oppressed because of the enemies' conspiracy. However, and thanks to stances and sacrifices of Yemeni people these scheme have been failed."
Source: Ansarullah Website