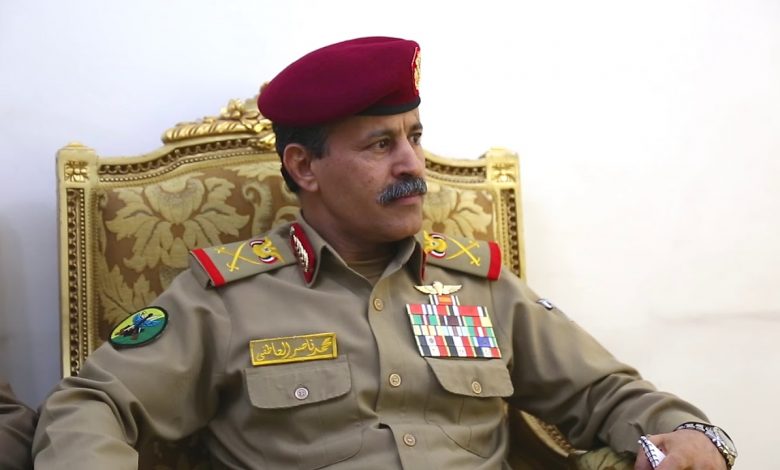 Yemeni Minister of Defense, Major General Mohammad Nasser Al-Atifi voiced Yemeni forces' readiness to implement new strategies against the Saudi-led aggression.
"The options of aggression powers are starting to narrow and our options are expanding. We have a strategy of 'great pain' and we are ready to implement it as soon as instructions are issued from the leadership," the minister said in remarks quoted by Al-Massirah on Friday.
"When aggression forces go ahead with its tyranny then we have to punish them," he said, stressing that Yemeni forces have a "rich bank of possible targets" in the Saudi depth.
Al-Atifi pointed out that during the first years of the aggression, important achievements were accomplished in terms of rebuilding the armed forces, and military gains in battlefields.
"The trend towards the production of light and medium weapons was accelerated at the beginning of the aggression, and this matter encouraged the production of strategic deterrence weapons," the Maj. Gen added.
He emphasized that the entry of the ballistic, winged missiles, drones, air defense systems and marine systems on the battle were factors that constituted a shift from the defensive battle to the offensive.
Al-Atifi continued by saying, "Today we make the initiative, threaten and implement our threats, and we have the ability and the capabilities to direct our strikes to places the enemy does not expect."
He pointed out that the aggression powers are going through the worst conditions and are looking today for a way out of the Yemeni quagmire.
The Yemeni DM explained that Yemen's defense capabilities were subjected to conspiracy and destruction at various stages by the US and Saudi, starting with the destruction of the air defense systems during the era of the former regime.
He also stressed that Marib is a Yemeni province that must be liberated as other Yemeni provinces.
"We put our strategy based on patience and readiness for long-term battle in Marib. We have no choice but to fight and our will won't be broken."
Source: Al-Massirah and Iranian media