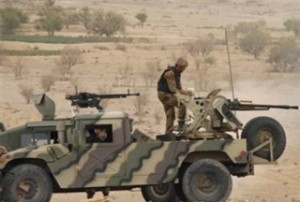 Yemeni Shia fighters say they have gained control of another army position in the Northwest as the army offensive against Houthi resistance enters its seventh week.
According to local sources, after hours of heavy fighting in Harf Sufyan, the Shia forces seized control of Khaneq bridge on a road connecting Saada province with the capital Sanaa, AFP reported.
Military officials say 28 Shia combatants, four Yemeni soldiers and two tribesmen were killed in the latest round of fighting between government troops and Shia forces –also known as Houthis– in Saada and Amran provinces.
The strategic achievement for the Houthis came a day after the military lost one of its fighter jets to a resistance attack in the al-Sha'af district of Saada. The group claims to have shot down the war plane as it was pounding their positions.
The army, however, blames technical problems for the downing of the MiG.
Hundreds of people have been killed and many others wounded since the Yemeni government's August 11 launching of 'Operation Scorched Earth' against the Shias in the northern provinces of Saada and Amran.
According to the UN, weeks of deadly clashes have also caused the displacement of 55,000 persons.
While the government claims the Houthis are seeking to restore the Zaydi imamate, the fighters are saying they only want greater autonomy and an end to what they call 'the government's discriminatory policies' in the impoverished region.