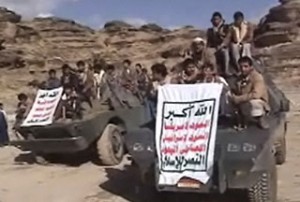 Yemen's Houthi fighters say they have repelled attacks by Saudi forces and prevented their further penetration into Yemeni territory.
"The Saudi advance on Yemen was blocked by the strong resistance of the Houthi fighters and after that Saudi fighter jets and artillery resumed their attacks on Al-Malahit, Haidan, Razeh, and Sheda districts," Houthi fighters said in a statement, a copy of which was sent to Iran's Fars news agency on Monday.
According to the statement, Saudi fighter jets have carried out over 35 attacks against different parts of the province of Sa'adah.
The fighters said Saudi Arabia is using Apache and MIG military helicopters in its attacks on Yemen.
Houthi fighters have destroyed over 50 Saudi military vehicles and seized "many modern US-made weapons" from Saudi forces, the statement added.
The statement said that the Saudi prisoners-of-war have been moved to a safe region.