Saudi Arabia
Yemen
Yemeni FM stresses country's sovereignty rejects American dictatorship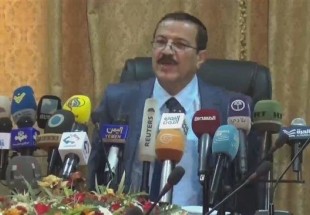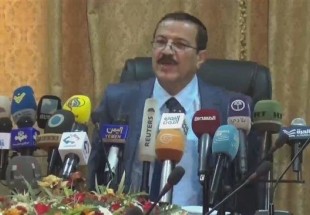 "Yemen is a sovereign country. We do not take orders from anyone, and do not accept the loss of our national sovereignty," Sharaf told Arabic-language al-Masirah televisions network on Tuesday evening.
He added that Yemenis are defending their motherland and will not allow their sovereignty to be undermined in any way.
"Our missiles are meant to safeguard Yemen's security. We had not attacked anyone prior to the onset of the Saudi-led military aggression," Sharaf pointed out.
He stressed that the Pentagon chief's comments about a political case confirms that Washington views Yemen through a military perspective.
"There would have been no aggression against Yemen in case the United States of America and Britain had not supported the Saudi regime," Sharaf said.
Meanwhile, a member of the Revolutionary Committee of the Houthi Ansarullah movement said the latest comments by the US defense secretary clearly show that Washington and its regional allies are seeking to divest the Yemeni people of their sovereignty.
"This is what the Yemenis have been refusing for several years. We have been making sacrifices in rejection of American diktats or any external tutelage on us," Tawfiq al-Humiri told the Arabic service of Russia's Sputnik news agency.
"We are developing and manufacturing our own missiles and weapons in order protect ourselves against the ongoing aggression by the US and its vassals, which has claimed the lives of thousands of Yemeni women and children," Humiri said.
He added that there is an obvious solution to the Yemen conflict.
"The United States of America and its pawns must stop their aggression and criminal acts, put an end to their siege on the Yemeni people and help establishment of peace in our country," the Ansarullah official underlined.
Earlier on Tuesday, Mattis called for a ceasefire in Yemen and for parties to come to the negotiating table within the next 30 days.
"We have got to move toward a peace effort here, and we can't say we are going to do it sometime in the future," he said during a discussion at the U.S. Institute of Peace (USIP) in Washington.
"We need to be doing this in the next 30 days," Mattis added.
Saudi Arabia and a number of its regional allies launched a devastating military campaign against Yemen in March 2015, with the aim of bringing the government of former president Abd Rabbuh Mansur Hadi back to power and crushing the country's popular Houthi Ansarullah movement.
The Legal Center for Rights and Developments in Yemen, in a statement released on October 15, announced that the ongoing Saudi-led military campaign against the impoverished and conflict-plagued Arab country has resulted in the death of 15,185 civilians, including 3,527 children and 2,277 women.
A total of 23,822 civilians, among them 3,526 children and 2,587 women, have also sustained injuries, and are currently suffering from the lack of medicine, medical supplies and poor treatment due to the crippling Saudi siege.
The center highlighted that aerial assaults being conducted by the Saudi-led alliance had resulted in the destruction of 15 airports and 14 ports, and damaged 2,559 roads and bridges in addition to 781 water storage facilities, 191 power stations and 426 telecommunications towers.
The statement went on to say that the incessant Saudi-led bombardment campaign had destroyed more than 421,911 houses, 930 mosques, 888 schools, 327 hospitals and health facilities plus 38 media organizations, halted the operation of 4,500 schools and left more than four million people internally displaced.
In addition, the Saudi-led coalition has targeted 1,818 government facilities, 749 food storehouses, 621 food trucks, 628 shops and commercial compounds, 362 fuel stations, 265 tankers, 339 factories, 310 poultry and livestock farms, 219 archaeological sites, 279 tourist facilities and 112 playgrounds and sports complexes.