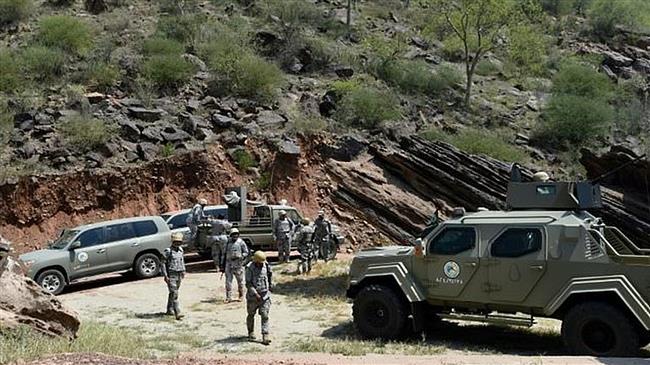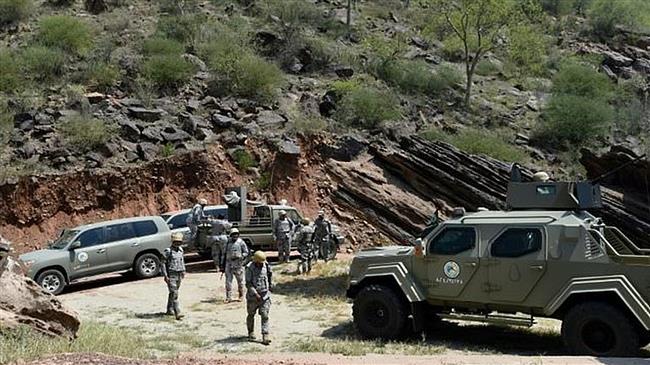 Yemeni armed forces have blown up two armored vehicles of Saudi soldiers in attacks on the kingdom's southern border regions.
Arabic-language al-Masirah television network reported that the first Saudi car was destroyed in a Yemeni mortar attack in the Jizan region on Saturday.
The second vehicle was destroyed when a booby trap went off at the al-Sadis military base in Najran region, the report added.
Additionally on Saturday, the Yemeni army's artillery unit fired missiles at gathering places of Saudi troops in several military bases in Najran.
Seven Saudi soldiers were further killed in the Yemeni sniper fire in both Njaran and Jizan.
Meanwhile, Yemeni missile strikes targeted Saudi forces and mercenaries at the Alab border crossing in the southwestern Asir region.
Earlier on Saturday, Yemeni forces fired a short-range Badr-1 ballistic missile at a base belonging to the Saudi Arabian National Guard Forces in Najran.
Yemeni armed forces have fired a ballistic missile at a base belonging to the Saudi Arabian National Guard Forces in the kingdom's southern Najran region.
Yemeni forces regularly fire ballistic missiles at positions inside Saudi Arabia in retaliation for the Riyadh-led military campaign on Yemen.
Saudi Arabia and its allies launched the war on Yemen in March 2015 in support of Yemen's former Riyadh-friendly government and against the country's Houthi Ansarullah movement.
The military campaign has killed and injured over 600,000 civilians, according to the latest figures released by the Yemeni Ministry of Human Rights.
Several Western countries, the US and the UK in particular, are accused of being complicit in the aggression as they supply the Riyadh regime with advanced weapons and military equipment.
Last December, Human Rights Watch called for UN sanctions on Saudi Arabia's military leaders, including Crown Prince Mohammed bin Salman, who also serves as the defense minister, over atrocities committed in the war on Yemen.