IIT Exclusive News
Middle East
Saudi Arabia
Videos
Videos
Yemen
VIDEO: Yemeni Hezbollah releases footage on Abu Dhabi airport ‎strike
Yemen's Joint Operations Command Center has released footage verifying a retaliatory attack on the Abu Dhabi International Airport carried out last year, which had been denied by officials of the United Arab Emirates.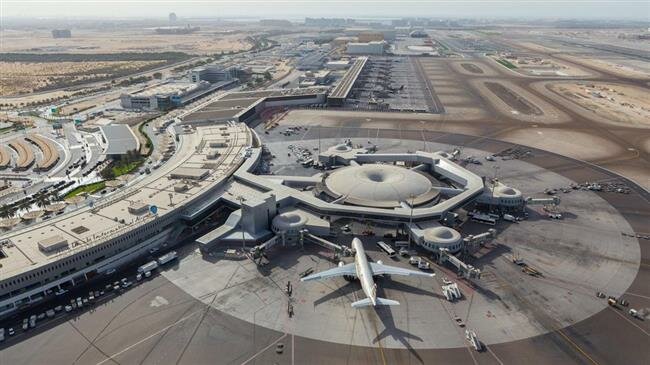 The video shows a Sammad-3 (Invincible-3) unmanned aerial vehicle flying at low altitude before it fires a missile, setting two trucks parked at the airport ablaze.
The attack took place on July 26, 2018 when Yemeni army soldiers, backed by allied fighters from Popular Committees, launched an airstrike against the airport using a domestically-built long-endurance Sammad-3 (Invincible-3) unmanned aerial vehicle.
Abdullah al-Jafri, a spokesman for Yemeni air force and air defense, said at the time that the drone attack on Abu Dhabi International Airport had halted flights to and from the airport, adding that this was the first time that Yemeni forces used a drone to attack the airport.
Yemeni drone pounds Abu Dhabi International AirportYemeni forces target Abu Dhabi International Airport in the UAE using a domestically-built Sammad-3 (Invincible-3) drone.
He added that Yemeni forces will continue to target the infrastructure of countries that have taken part in the aggression against Yemen in future attacks.
Emirati aviation authorities later denied the attack, announcing that an incident involving a supply vehicle in the Terminal 1 airside area of the airport had occurred at around 4 p.m. local time (1200 GMT).
UAE officials also claimed that the development had not affected operations at Abu Dhabi International Airport, and flights continued to arrive and depart as scheduled.
Yemeni drone targets Patriot system at Saudi airport'A Yemeni Qasef-2K combat drone has reportedly targeted a Patriot surface-to-air missile system at an airport in Saudi Arabia's border region of Najran.
The UAE is Saudi Arabia's key ally in its deadly war against Yemen.
Saudi Arabia and a number of its regional allies launched a devastating campaign against Yemen in March 2015, with the goal of bringing the government of former Yemeni president Abd Rabbuh Mansur Hadi back to power and crushing the Houthi Ansarullah movement.
Saudi airstrike kills four Yemeni civilians in HajjahAt least four civilians have been killed and eleven others injured in a Saudi airstrike in Yemen's northwestern province of Hajjah.
The US-based Armed Conflict Location and Event Data Project (ACLED), a nonprofit conflict-research organization, estimates that the Saudi-led war has claimed the lives of over 60,000 Yemenis since January 2016.