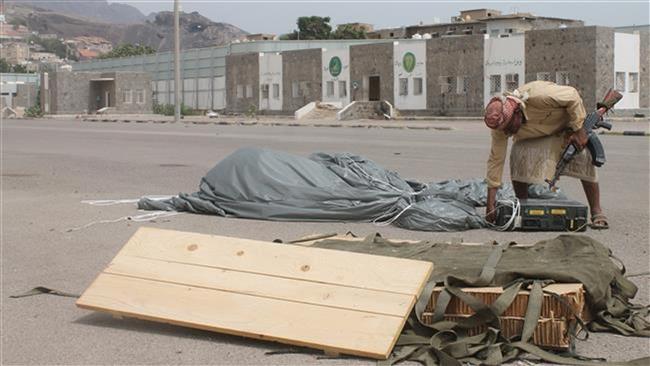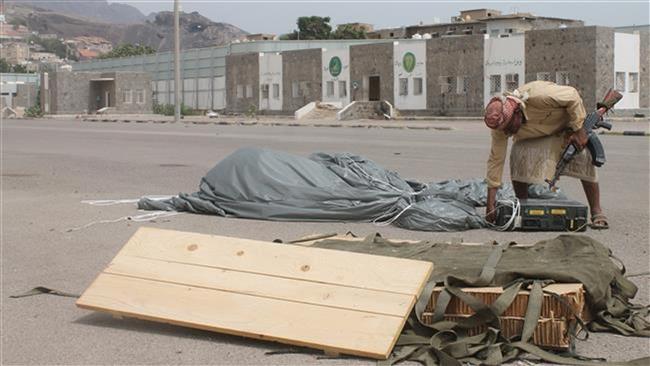 The Yemeni army, along with popular committees, has reportedly seized weapons Saudi military aircraft dropped to the terrorists operating in the southern part of the country.
The Yemeni forces managed to seize the weapons and ammunition airdropped to the terrorists in the southwestern Yemeni province of Lahij on Monday, Yemen's al-Masirah TV reported.
Photos released by the channel on social networks show different sorts of weapons, including automatic guns and rocket launchers, airdropped to the terrorists.
In May, Saudi planes airdropped weapons to al-Qaeda terrorists in in the southwestern province of Ta'izz.
Saudi military planes also dropped a number of wooden boxes containing various firearms and ammunition to militants in the southwestern port city of Aden in April.
Saudi Arabia keeps bombing Yemen
Saudi Arabia targeted several areas across Yemen early on Tuesday in flagrant violation of a UN-sponsored ceasefire.
According to local media outlets, the Saudi war planes launched a number of airstrikes on Aden International Airport in the province of Aden.The Saudi jets also pounded the districts of Mualla and Attawahi in the southwestern province.
The Saudi fighter jets also bombarded a bank and an orphanage in the district of Harad in the northwestern Yemeni province of Hajjah.
In retaliation for the Saudi airstrikes, Yemeni troops, backed by popular committees, fired 15 rockets at a Saudi base in the country's southwestern Jizan region.
In a separate attack, the Yemeni army fired six rockets at the village of Khubah in Jizan.
UN chief disappointed with Yemen truce failure
United Nations Secretary General Ban Ki-moon said on Monday that he is "very much disappointed" with the violation of the ceasefire in the impoverished Arab country, a spokesman for the UN chief said.
"The secretary general is very much disappointed that the humanitarian pause did not take hold over the weekend," Stephane Dujarric said, adding that "we continue to reiterate our call for an unconditional humanitarian pause."
"We have not lost hope and discussions are ongoing," Dujarric noted.
The humanitarian truce in Yemen came into force at 23:59 local time (2059 GMT) on Friday. The UN Security Council called on all sides of the Yemen conflict to observe the break in fighting, which was slated to run up to the end of the fasting month of Ramadan on July 17.
Saudi Arabia has violated the truce several times since its announcement.
Riyadh launched its military aggression against Yemen on March 26 – without a UN mandate – in a bid to undermine the Houthi Ansarullah movement and to restore power to the country's fugitive former president, Abd Rabbuh Mansur Hadi, a staunch ally of Saudi Arabia.
More than 3,000 people, including 1,500 civilians, have been killed over the past three months in Yemen, according to the UN.