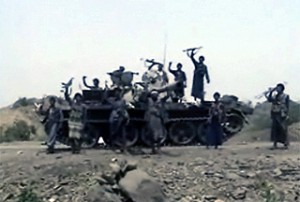 At least ten Yemeni troopers have been killed and 18 others have been wounded in a fresh round of clashes with Yemen Hezbollah Movement Houthi fighters in the north, said a military official.
The clashes broke out in on Monday in Harf Sufyan, south of the city of Sa'ada, and in the Malahidh border area, the unnamed official told AFP.
He said that most of those killed were gunned down by snipers.
The official also said that a group of several hundred Yemeni soldiers, who were besieged by the fighters in the mountains southeast of Sa'ada, managed to break out of the cordon on Monday.
Yemen Hezbollah Movement Houthis had dug trenches and laid a number of landmines around Jebel al-Samah, trapping the soldiers for the past 10 days. The official said that there "were casualties" in the fighting, but did not elaborate.
In a statement released by the fighters, they said Yemeni soldiers were killed in dozens, adding that the bodies of the dead could be found in the northern Maqash area.
The fighters also said they had repelled a government-backed attack on their farms.
Meanwhile, Saudi warplanes continued to target northern areas, leaving at least two children dead.
On Sunday, Saudi warplanes carried out airstrikes on Sa'ada and fired nearly 150 rockets and heavy artillery, according to the fighters.