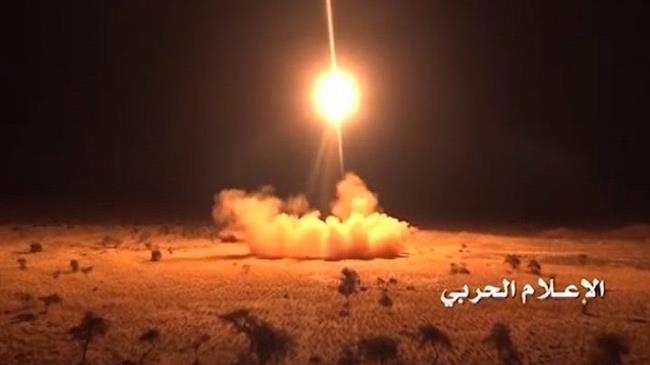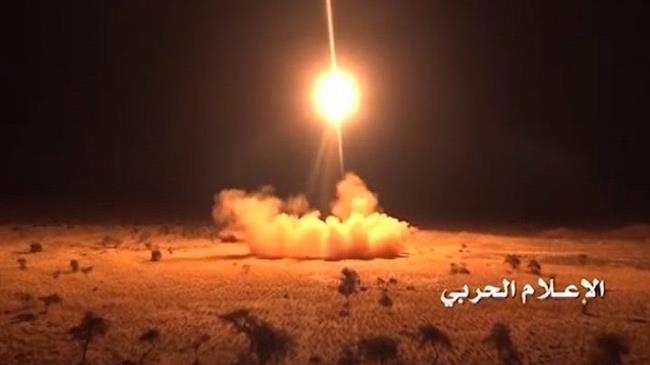 Yemeni army forces have targeted the Jizan Industrial City in southern Saudi Arabia with domestically-manufactured Badr-1 ballistic missile.
Yemen's Arabic-language al-Masirah television network made the announcement on Wednesday.
Following the announcement, Saudi state news channel al-Ekhbariya claimed that the kingdom's air defenses had intercepted the projectile.
Earlier in the day, Yemeni army forces targeted Saudi border posts in the kingdom's southern provinces of Jizan and Najran with a salvo of Katyusha rockets and artillery rounds, leaving a number of Saudi soldiers dead and injured.
Yemeni army soldiers and fighters from Popular Committees also attacked al-Hajlah and al-Muthalath bases in Najran.
Separately, Yemeni army forces and their allies fired a domestically-designed short-range missile at a position of Saudi-backed militiamen loyal to resigned president Abd Rabbuh Mansur Hadi in Yemen's northern province of al-Jawf.
An unnamed Yemeni military official said the Zelzal-1 (Quake-1) missile hit the designated target in the al-Maslub district of the province.
Saudi airstrikes claim 18 civilian lives
Meanwhile, Saudi warplanes have carried out raids on residential areas in Yemen's Amran and Hajjah provinces killing at least 18 people.
At least 12 civilians were killed when Saudi warplanes bombed Amran province.
Elsewhere in Hajjah province, Saudi jets targeted a residential area and killed at least six people.
At least seven civilians, mostly women and children, are killed in fresh Saudi airstrikes in northwestern Yemen.
Some 15,000 Yemenis have been killed and thousands more injured since the onset of the Saudi-led aggression on Yemen in March 2015.
The United Nations says a record 22.2 million Yemenis are in need of food aid, including 8.4 million threatened by severe hunger.
A high-ranking UN aid official has warned against the "catastrophic" living conditions in Yemen, stating that there is a growing risk of famine and cholera there.
"The conflict has escalated since November, driving an estimated 100,000 people from their homes," John Ging, UN director of aid operations, told the UN Security Council on February 27.