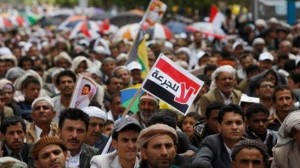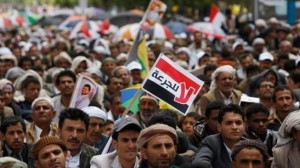 Yemen's government has offered to resign within a month in a bid to end the ongoing protests by Houthi Shia fighters, government sources say.
Yemeni officials said on Saturday that a presidential delegation offered Shia Houthi fighters a draft proposal on forming a technocrat government.
Sources say the proposal suggests forming a technocrat government within one month from the date of signing the draft document. It also includes an offer to set up an economic committee to review the fuel subsidy issue.
Senior government officials in Sana'a have also promised to review an unpopular decision to cut fuel subsidies.
"This proposal will take effect in exchange for the Houthis removing their camps from Sana'a, they can either respond or leave the capital if negotiations fail," media outlets quoted an unnamed government source as saying.
Local media reports say there has been no immediate response to the offer from the Houthis.
Thousands of Houthi supporters have set up tents near the interior, telecommunications and electricity ministries in a side street that leads to Sana'a airport. The angry protesters had repeatedly said that they would not stop the ongoing protest rallies until their demands were met.
The protesters accuse the government of corruption and marginalizing the Shia community.
Yemeni President Abd Rabbuh Mansur Hadi had earlier called for a dialogue in an attempt to ease the tensions and invited the Houthi representatives to join a "unity government."
The Houthi movement played a key role in the popular revolution that forced former dictator, Ali Abdullah Saleh, to step down.
Saleh, who ruled Yemen for 33 years, stepped down in February 2012 under a US-backed power transfer deal in return for immunity, after a year of mass street demonstrations demanding his ouster.