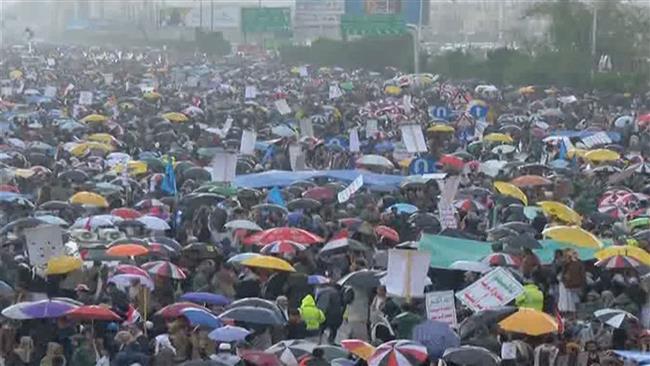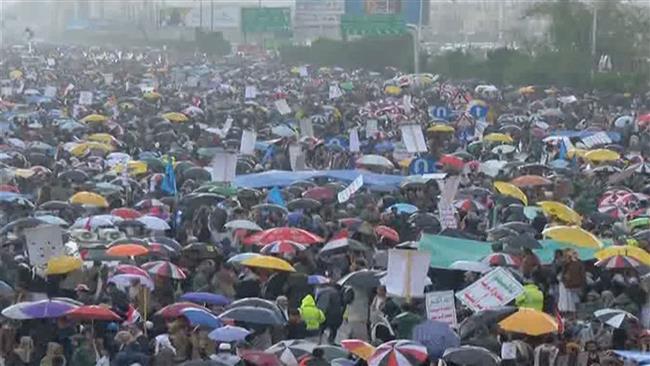 Yemeni people have staged a mass rally in the capital, Sana'a, to voice their support for a new coalition government including the ruling Houthi Ansarullah movement and former president Ali Abdullah Saleh's General People's Congress party.
People gathered in the streets of Sana'a on Monday to express their support for the new alliance which they said could better counter the ongoing Saudi invasion and help Yemenis restore peace and order to their country.
The demonstrators said, however, that the armed resistance against the Saudi invasion should continue.
They also chanted slogans against Saudi Arabia, saying the regime in Riyadh is not committed to its promises to halt air strikes against Yemen to help facilitate the ongoing political negotiations in Kuwait aimed at putting an end to the conflict in the Arab country.
They also said plots to undermine the peace talks in Kuwait would go nowhere, adding that the Yemenis would never agree to a peace plan that would bring the resigned president, Abd Rabbuh Mansour Hadi, back to power.
On Sunday, the Ansarullah movement and its allies rejected as unacceptable a United Nations peace plan proposed to the delegations in Kuwait, saying the plan lacked any initiative for establishing a unity government in the war-torn country.
Hadi delegation quits talks
The Saudi-backed opposing side, which represents Hadi and had initially agreed to the UN peace plan, said on Monday that it will pull out of the talks after it heard of the Houthis' opposition to the plan.
"We are leaving today after having completed our part in the talks," their spokesman Mohammed al-Emrani said, claiming that the ball is now in the court of the Houthis and their allies.
The UN plan stipulated that Houthis and their allies withdraw from three major cities they control in Yemen, including the capital, and hand over their heavy arms. That plan said political dialogue on a final solution could start if Houthis met those conditions.
Houthis and their allies said any peace plan must first forge an accord on a new consensual executive authority, including a new president and government.
Yemen peace talks began on April 21 in Kuwait City. The warring sides had agreed on a ceasefire before the negotiations began although the Houthis have repeatedly accused Saudi Arabia, which backs Hadi through air strikes and ground operation in Yemen, of violating the truce agreement.
About 10,000 people have been killed since the conflict in Yemen began in late 2014. Yemenis say most of those dead have been civilians killed in Saudi air strikes. The attacks by Riyadh are meant to reinstate Hadi.